Insider Guide to Backhoe Loader Attachments
A backhoe attachment is a supplement to your backhoe that allows flexibility and increased efficiency. With the right attachments, a backhoe can do a job from start to finish including clean up.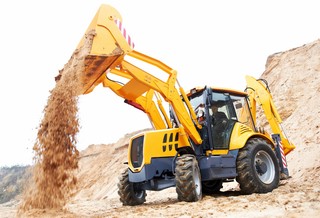 A backhoe bucket is one of the most popular attachments. There are many different types of backhoe buckets that vary in design and function. The general purpose of the bucket is to remove materials like soil, rock and sand out of the way. It can be used for several different tasks in construction, transportation of building materials, digging, landscaping, excavation, farming and more.
A high tip bucket is used for dumping materials at a greater height than general purpose buckets. It works for loading high-sided vehicles or trailers. Most models have clear shells with rams loaded in the bucket to make filling and discharge easier. The high tip bucket is found most often in road construction or mining but also has its place in agriculture for grain handling.
A broom bucket is a sweeper that attaches where a backhoe bucket would normally go. This makes for easier job clean up and is frequently used in public works, small construction, road construction, landscaping and agriculture. They are an excellent choice for cleaning streets, parking lots and factory floors. Angle brooms move debris ahead and to the side. Pickup brooms do the same but pick it up and deposit it in an included hopper bucket for easy dumping. Utility brooms work in forward and reverse to sweep and collect material.
[table] Type of Bucket, Industry, Price range General purpose, "Construction, Agriculture, Road Construction", $400 to $1000 Rock, "Construction, Agriculture, Road Construction", $1700 to $5500 Cemetery, Grave digging, $1500 to $4500 High capacity sand, "Construction, Digging, Agriculture", $1000 to $3000 Pavement removal, "Construction, Road Construction", $5000 to $8000 "V" ditching, "Construction, Road Construction", $1200 to $3500 Leveling, "Construction, Road Construction", $750 to $2000 Cribbing, Railroad, $500 to $3000 Frost, "Construction, Railroad, Road Construction, Agriculture", $800 to $3000 Trenching, "Construction, Railroad, Road Construction, Agriculture", $350 to $1700 High Tip, "Construction, Agriculture, Road Construction", $300 to $1200 Broom, "Public Works, Construction, Industrial, Landscaping, Agriculture", $500 to $2500 [/table]
A hydraulic breaker is used to break up tough materials such as rock or concrete. Most frequently used on construction and industrial sites, the breaker functions as a jackhammer. Then a bucket attachment can be used to collect the rubble and dispose. Given the power exhibited by the hydraulic breaker, the stabilizer legs of the backhoe should be extended to keep the backhoe steady.
An auger digs holes suitable for posts and footings as well as holes for shrubs or trees in landscaping. Adaptable and rugged, they can be used for a variety of needs. Different soil types require use of varying torque or drive methods. For light work, using a direct drive system will suit your needs but for moderate to heavy work, you will want planetary drives. Augers are used in mining, construction, industrial and agricultural fields.
A pallet fork attachment for your backhoe turns your backhoe into an on-site rough terrain forklift. The use of pallet forks increases the versatility of current equipment. Construction and industrial companies often use them because it limits the pieces of equipment needed on a job site. Pallet forks are adjustable to make loading, unloading, adjusting or moving pallets of material quick and easy.
Quick attach is a term that refers to a coupling system that allows operators to rapidly fasten or unfasten a backhoe attachment. Most manufacturers are consistent in their coupling systems. There are companies that make universal quick attach couplers so if you change brand of backhoe or other equipment, there would not be a need to purchase new couplers.
One other item necessary for your backhoe and its attachments are backhoe tires. When it comes to tires for backhoes, it is not the equipment itself that determines the choice, but the use of the equipment. So when you purchase attachments, keep in mind you may also need tires to provide the most traction and longest wear for your intended purpose.
Get Quotes
We contact sellers
They compete for your business