Meet the New Caterpillar Backhoe Loaders
Caterpillar has introduced two new series of backhoe loader designed to give more value to buyers as well as meet EPA Tier 4 emission standards. The features on their new F and IT series backhoe loaders demonstrate success on both counts.
F Series Backhoe Loaders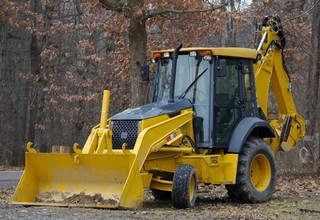 All of the F series single-tilt models – 416F, 420F, 430F and 450F- have some characteristics in common. Each model features a new loader arm design that provides 12% more lift capacity at full height and 7 inches more dump clearance. They have better reach and improved visibility during operation. There is a standard storage box on the right side for chains and other tools.
Caterpillar also added easier engine compartment access. The primary fuel filter can now be reached top side. With the loader arm up, operators can open the front grill cover without tools for better access to the radiator and various coolers that keep the equipment cool and clean, as well as the battery for daily disconnect. Side panels come out easily to allow full access to the rest of the compartment.
Each F series model also has its own distinctive attribute in driveline refinement. The 416F has hydraulically boosted brakes. The 420F has 14% greater power via its larger torque converter for better hill climbing and grade speed. The 430F, at 107 HP, has increased horsepower to assist in pushing power, aggressive truck loading and maintaining speed. The 450F has load-sensing hydraulics for more precise control at the backhoe and the loader.
IT Series Backhoe Loaders
The IT series Caterpillar backhoe – 420F IT and 430F IT – expand on the front loader versatility. A step above the F series, they offer more lift, more breakout power and true parallel lift of palletized materials for unloading, loading and movement around the job site. They come standard with hydraulic quick coupling for backhoe attachments.
[table] Model, Horsepower, Digging Depth, Fuel Tank Size, Price 416F, 87, 14.3 ft, 45 gal, "$85,000" 420F, 93, 14.3 ft, 45 gal, "$120,000" 420F IT, 93, 14.3 ft, 45 gal, "$125,000" 430F, 109, 15.4 ft, 45 gal, "$130,000" 430F IT, 109, 15.4 ft, 45 gal, "$135,000" 450F, 127, 17.2 ft, 44 gal, "$150,000" [/table]
Cat 4.4 Acert Engine
Both F and IT series feature the new Cat 4.4 Acert engine. It is both turbocharged and intercooled. The engine uses electronic engine control for better performance. There is also an electronic priming pump for its common rail fuel system, eliminating the need for manual pumping.
The Cat 4.4 Acert engine also features the NOx Reduction System. It captures and chills some exhaust gas, routing it back into the combustion chamber to drive down temperatures to reduce NOx emissions. Also through the engine operation, exhaust emissions are lowered by consistent high temperatures that keep the diesel particulate filter (DFP) regenerating and burning soot. If heavy idling does not keep the temperatures high enough, a back pressure valve will restrict exhaust flow to raise the temperatures to compensate. The combination of these systems is how Caterpillar is meeting the Tier 4 emission standards.
The Cat 4.4 Acert engine improves fuel efficiency by 15 to 20% over the previous generation Caterpillar backhoe loaders. This is accomplished through injection timing controlled by timed microbursts. The programming improves combustion so fuel can burn cleaner and more efficiently. Caterpillar also uses advanced air management to optimize the airflow for increased power and reliability.
Get Quotes
We contact sellers
They compete for your business