JCB Maintains Its Historic Roots Even During Innovation
In the 1940s, Joseph Cyril Bamford began JCB with a second-hand welding set in a rented garage in England. Starting with tipping trailers made out of surplus military equipment and then moving onto loaders that could bolt onto the popular tractors of the time, JCB met the needs of neighbors and farmers in his local area. He claimed to have invented the concept of backhoe loaders in 1953, and in 1957, introduced the first dedicated backhoe loader as both were permanently attached to chassis instead of incorporated by component on a tractor. By then, his company had moved out of the garage to a factory. Sixty-eight years after the garage days, JCB is now operating on four continents and employs 11,000-plus people.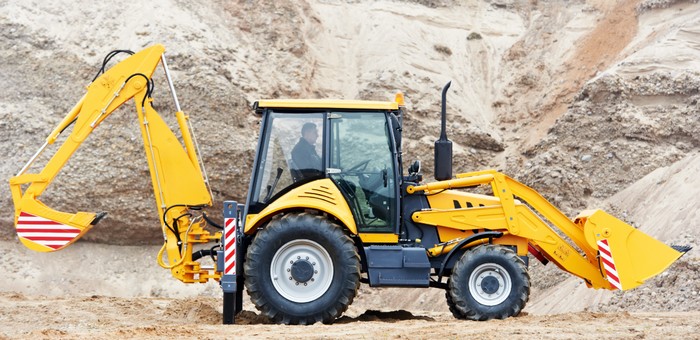 JCB has continued to meet the needs of industry by building off of its successes. The company strives to offer more innovation, versatility and energy efficiency with each new design. Their unique features appeal to users all over the world.
There are eight models of JCB backhoes, ranging in horsepower and in digging depth. All models can accommodate backhoe buckets, backhoe attachments and backhoe tires for any kind of job.
[table] Model, Horsepower, Digging Depth, Fuel Tank Size, Price 3CX, 74, 14 ft, 42.5 gal, "$77,000" 3CX 14, 74, 14 ft 7 in, 42.5 gal, "$93,000" 3 CX 14 Super, 91, 13 ft 11 in, 42.5 gal, "$120,000" 3CX 15 Super ,109, 16 ft 3 in, 42.5 gal, "$130,000" 3CX 17 Super, 109, 17 ft 7 in, 42.5 gal, "$140,000" 4CX 14 Super, 109, 14 ft 7 in ,42.5 gal, "$125,000" 4CX 15 Super, 109, 16 ft 3 in, 42.5 gal, "$135,000" 4CX 17 Super, 109, 17 ft 7 in, 42.5 gal, "$145,000" [/table]
EcoMax. The JCB EcoMax engine is available in the 3CX through the 4CX Super models. It touts high torque at low engine speeds. This gives users up to 10% reduced fuel consumption as well as decreasing the installation costs of cooling fans and noise production. They require no special engine oils. There are also no exhaust after-treatment components. It features a compact installation that also improves operator visibility, maneuverability and overall performance.
TorqueLock. JCB's unique TorqueLock system attaches to the engine and maintains the top speed for longer periods of time, even uphill. This not only increases productivity by reducing travel time between job sites by 10% but is also more fuel efficient. When engaged, it saves 13% in fuel consumption. When not engaged at comparable speeds, it will save up to 25%.
EcoRoad. Another favorite is the JCB EcoRoad technology. This combines the TorqueLock system with a six speed automatic transmission, power assisted brakes and their DieselMax engine. The engine can run longer on the same amount of fuel. The result is up to 25% decreased use of fuel while increasing road speed by 10% and extending the potential work area.
Get Quotes
We contact sellers
They compete for your business