John Deere Backhoe Loaders
John Deere's K-Series, introduced in March 2012, offers a multitude of new features that increase productivity and lower daily operating costs. The new series builds upon favored features and introduces a variety of options that are economical and versatile.
[table] Model, Horsepower, Digging Depth, Fuel Tank Size, Price 310K EP, 70, 14 ft 3 in ,41 gal, "$95,000" 310K, 88, 14 ft 3 in, 41 gal, "$103,000" 310SK, 96, 14 ft 6 in, 41 gal, "$120,000" 310SK TC, 102, 14 ft 11 in, 41 gal, "$130,000" 410K, 107, 15 ft 10 in, 41 gal, "$95,000" 410K TC, 106, 16 ft 1 in, 41 gal, "$110,000" 710K, 130, 17 ft 10 in, 69 gal, "$160,000" [/table]
Engines. Each of the John Deere backhoe loaders has one of their patented PowerTech engines. Every model of PowerTech engines meet Tier 4 emission standards through cooled exhaust gas recirculation and selective catalytic reduction. PowerTech Tier 4 engines are 4 to 6% more efficient than their J –series Tier 3 predecessors. They are an improvement in other ways as well. They also provide peak torque with faster transient response, allowing you to push through difficult jobs and keep moving. Engine noise is also reduced with auto idle and automatic shutoff, putting your company in compliance with local and regional noise control regulations. As an added benefit, these engines go through fewer fluids to save money.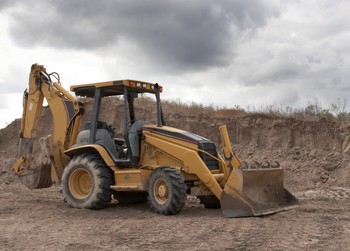 Loader levers. Another positive addition to the K-series is the change in loader levers. Instead of a second lever to control a multi-purpose bucket, operators gain electronic control over the hydraulic system in just one lever. The joystick redesign for Deere's Total Machine Control (TCM) adds to the operator's control. The technology allows fine-tuning speed to the job at hand such as low speed for working in confined spaces and medium for normal digging operations.
Automatic controls. The K-series also feature smart technology that reduces daily operating costs and reduces risk. Auto idle slows the engine speed when the joystick is released. It resumes when the joystick is activated again. If it is not activated in a period of time pre-set by the operator, the engine will automatically shut down. A sealed-switch module adds security with fingertip keyless start through a touchpad passcode.
Operator space. John Deere took steps to increase operator comfort. The K-series offers wide entry points with convenient handholds and self-cleaning steps. The armchair seats swivel and can be adjusted for height. Options include tilt steering and cruise control in the 310SK, 410K and 710K models. Besides cup holders, there are lockable storage areas and 12 volt power ports for cell phones or other devices. The HVAC system directs cool or heated air to the operator, where it is needed most.
Worksite Pro also makes changing backhoe attachments quick and easy. Changing attachments such as backhoe buckets with ease also increases productivity and minimizes downtime. There are more than 100 attachment models fitted with the universal, self-cleaning Quik-Tatch easy attachment system so they can be used on other John Deere equipment in your fleet as well.
Get Quotes
We contact sellers
They compete for your business