Cat Dozers Clear the Way for Sustainable Jobsites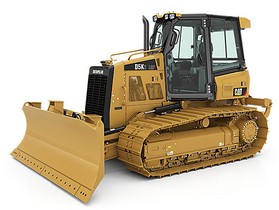 With nearly a century in production, countless dozer models, and sales and revenue that topped $55 billion in 2013, Caterpillar Inc. is among the world's leading manufacturers of construction and mining equipment as well as diesel and natural gas engines. Offering a wide range of machinery, the company splits its focus into three core product segments: resource industries, construction, and energy and transportation.
Within these three categories, they develop and produce bulldozers engineered specifically for unique applications – ranging from small 80 hp models to large 600 hp versions and even specially-designed waste handling bulldozers.
In addition to output, the company invests considerable resources on a critical component of modern business: sustainable operation. Recently named to the Dow Jones Sustainability Indexes (DJSI) for the twelfth year in a row, Cat has been recognized for their sustainable contributions to the industrial engineering sector. They also received an Environmental Award in 2010 from the Economic Association of Schleswig-Holstein in Germany for their innovative solutions designed for marine, petroleum, and power generation applications.
Popular models include:
[table] Model #, Horsepower, Operating Weight, Engine, Estimated Cost Small, , , , D3K2, 80 hp, "17,544 lbs.", Cat C4.4 ACERT, "$65,000 - $83,000" D4K2, 92 hp, "18,080 lbs.", Cat C4.4 ACERT, "$80,000 - $125,000" Medium , , , , D6K2, 130 hp, "29,346 lbs.", Cat C6.6 ACERT, "$174,000 - $295,000" D6T, 205 hp, "46,158 lbs.", Cat C9.3 ACERT, "$185,000 - $323,000" Large, , , , D8T, 317 hp, "87,733 lbs.", Cat C15 ACERT, "$265,000 - $589,000" D9T, 436 hp, "106,618 lbs.", Cat C18 ACERT, "$529,000 - $769,000" Waste Handling, , , , D6T WH, 205 hp, "54,791 lbs.", Cat C9.3 ACERT, "$217,000 - $357,000" D8T WH, 310 hp, "85,650 lbs.", Cat C15 ACERT, "$255,000 - $410,000" [/table]
Four categories, four levels of dozing output
Here's a rundown on each of the four types of dozers, including some of the design elements that enable them to achieve their award-winning environmental operation.
1. Small bulldozers
Designed to be light and easily maneuvered, Cat's small dozers combine speed, mobility, flexibility, and accuracy suited to finish grading. This makes them ideal for a wide range of agricultural and landscaping applications, easily moving around tight corners and on sensitive grounds without damaging the work surface. Tasks for machines within this range include clearing and grading, back-filling, and final grading to complete landscaping design or driveway construction.
Power output range: 80 - 104 hp
Operating weight range: 17,544 - 20,534 lbs.
2. Medium bulldozers
Retaining the convenience and relative size of the small dozer, medium bulldozers add almost double the output to provide extended versatility for heavier tasks. Common on construction sites as well as farms and other agricultural locations, medium bulldozers from Caterpillar are used for trenching, drilling, backfilling, and excavating.
Power output range: 130 - 205 hp
Operating weight range: 29,346 - 46,158 lbs.
3. Large bulldozers
For heavy-duty and industrial sized projects, Cat's line of large bulldozers is equipped with the durability and features that provide easy operation and optimal output. Machines within this range feature elevated sprockets that lift final drives and power train components out of the work environment. Cutting downtime by reducing maintenance, this engineering design has been shown to enhance productivity and provide greater ROI for machines operating in extreme environments. Large bulldozers are often the cornerstone of major construction projects – both private and government-contracted. They also make short work of landscaping renovations and urban renewal projects.
Power output range: 312 - 600 hp
Operating weight range: 86,900 - 154,700 lbs.
4. Waste handling bulldozers
Regardless of the industry, many large businesses and construction sites have needs related to waste management. Caterpillar's Waste Handling Dozers simplify the task through a machine that incorporates enhanced protection for the radiator, engine compartment, crankcase, and tilt cylinder lines.
By safeguarding these vulnerable components from damage inflicted by refuse commonly found at many recycling and waste facilities, the extra shielding on this specially-designed bulldozer ensures safe, continued operation in almost any work environment. Common applications include spreading, raking, and backfilling.
Power output range: 150 - 410 hp
Operating weight range: 42,454 - 109,180 lbs.
Productivity through attachments
Caterpillar bulldozer reviews posted online are largely positive. Many operators cite the cabin design and conveniently-placed ergonomic controls as "comfortable" and offering "good vision."
But while comfort helps reduce operator fatigue, the heart of productivity is found in the variety of attachments the dozer accepts. Cat further strives toward cost-efficiency and sustainability by enabling their dozers to serve a variety of purposes on any jobsite with the quick change of an attachment.
Popular bulldozer accessories include:
Buckets (general purpose, multi-purpose, ditch cleaning, heavy duty, and soil excavation)
Augers
Backhoes
Blades (angle and dozer)
Brooms
Brushcutters
Couplers
Cold Planers
Forks (pallet and utility)

Landscape Tillers
Mulchers
Rakes
Shears
Snow Plow
Stump Grinders
Trenchers
Vibratory Compactors
Get Quotes
We contact sellers
They compete for your business