Construction Machinery Is Designed for Industry-Specific Benefits
There's a huge difference between using a bulldozer to revamp the landscaping of a local golf course and using one to demo an old structure in preparation for new construction. That's why Cat, John Deere, Komatsu, and all of the leading manufacturers create specific customizations that enable their dozers to perform efficiently and cost-effectively.
Here's a quick rundown on four of the major industries that routinely use bulldozers and the benefits they receive.
Agriculture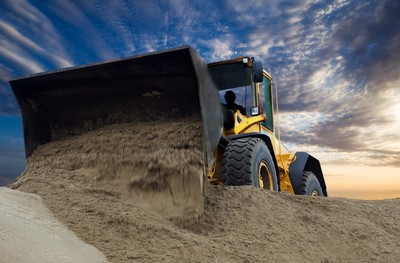 Whether on a small family farm or a large corporate-run enterprise, agriculture finds a variety of uses for modern bulldozers. Often used to backfill around buildings and foundations, create runoff grades for crops and animals pens, and level, pile or grade dirt, gravel, and even snow, dozers represent a major yet necessary investment for agricultural applications.
The primary benefit on this scale is cost-efficiency. They save countless hours that would otherwise be spent manually hauling, raking, and digging by hand. In doing so, a bulldozer minimizes the number of hands required to run the day to day operations around the farm while enabling those workers to be more productive in a day.
Popular attachments for this type of agriculture equipment include:
Buckets (general purpose, multi-purpose, light material, dirt, ditch cleaning, and soil excavation)
Augers
Backhoes
Brushcutters
Landscape tillers
Mulchers
Snow plows
Stump grinders
In general, many agricultural applications can operate a dozer as a multi-purpose machine, completing a variety of tasks with a single investment. For this reason, purchasing a dozer outright or leasing with good terms makes the most sense. If seasonal requirements dictate a higher level of operation, renting machines for a month or two is also a cost-effective option.
Success story: A farm in central Oregon recently decided to tear out a series of dilapidated structures to make way for a pumpkin patch. Using a mid-range model with an output of around 130 hp, the structures were cleared and the ground was subsequently tilled for planting with just a few short days of work and minimal crew.
Construction
As one of the most frequent users of modern bulldozers, the construction industry also stands the most to gain. Within this application, machines enable one or two individuals to shift, pile, and clear tons of refuse and debris in preparation for building. Plus, many machines include long tracks, adding enhanced balance and making sloped grading operations easier. Common construction tasks that require a bulldozer include loading, grabbing, excavating, backfilling, grading and sweeping.
Popular attachments include:
Buckets (general purpose, multi-purpose, high capacity, heavy duty, side dump, and heavy duty rock)
Augers
Cold Planers
Forks (pallet, utility, industrial grapple, and utility grapple)
Hammers
Trenchers
Vibratory Compactors
Wheel Saws
With this range of applications in mind, it's reportedly common for construction firms and even individual contractors to lease their equipment. This often provides a single monthly payment for equipment costs (if leased through a single dealer) and also reduces upfront costs by eliminating the down payment on each machine. But before leasing, many contractors rent the model they're interested in first, testing it on site to ensure its compatibility with the necessities of the job. In fact, many contractors report testing several different models of construction equipment to find the one that's best suited to the crew, the client, and everyone else involved.
Success story: While the construction applications are practically endless (especially when considering multi-purpose machines with interchangeable attachments), one of the most notable is the routine use of bulldozers to construct fire lines during fire season in California. Quickly digging trenches and clearing massive amounts of brush, they save critical time necessary to contain and arrest forest fires, saving countless acres, structures, and lives in the process.
Government
Government projects are similar to most other construction needs except the funding often comes through public dollars. This mandates cost-effectiveness and sustainability for the machines used. Offering Tier 4 machines that meet all EPA requirements, Caterpillar and other manufacturers recently went a step further for government-contracted bulldozers – creating machines that are quickly earning a reputation for fuel efficiency due to the amount of work they turn out per unit of fuel.
Considering everything this branch of earth moving equipment is used for, accessories run the gamut. This broad level of use is reflected in popular attachments that include:
Buckets (general purpose, multi-purpose, light material, utility, dirt ditch, and cleaning)
Backhoes
Brooms
Brushcutters
Forks (pallet, utility, industrial grapple, and utility grapple)
Landscape Tillers
Mulchers
Rakes (industrial grapple and landscape)
Shears
Snow blowers
Snow Plow
Unlike private enterprises, government sources have more funding available to purchase machines outright. Ownership – whether local, state, or national – also enables them to quickly reassign dozers to another jobsite or project without having to wait for clearances from a rental agreement or lease holder.
Success story: A large university system on the west coast recently used a series of bulldozers (not to mention an extensive array of other construction machinery) to complete campus renovation and construction projects throughout their system. Funded by state General Obligation and Lease Revenue bonds, the completion of more than 130 projects including libraries, performing arts centers, classrooms and labs, as well as major infrastructure cost nearly $850 million and provided 13,000 construction jobs to crews around the state.
Landscaping
From cutting brush and grinding stumps to grading and sweeping, bulldozers allow landscaping professionals to save time and take on bigger tasks than if they had to work manually. Smaller dozers, like the 80 to 92 hp models, are ideal for these applications. Compact in size, they provide easy maneuverability and a light footprint, making them safe for use on fragile or costly grounds.
Within these environments, popular attachments include:
Buckets (general purpose, multi-purpose, light material, utility, dirt ditch, cleaning, heavy duty, rock soil, excavation)
Augers
Backhoes
Landscape tillers
Material handling arms
Mulchers
Rakes (industrial grapple, landscape, and power box)
Shears
Stump Grinders
Trenchers
Whether to buy or rent depends on how often the equipment is used. Seasonal projects like fall cleanup or snow removal can be completed with a rented dozer. But keep in mind: one bulldozer can easily be adapted to a multi-purpose machine, enabling it to be used year-round with the simple change of an attachment. For this reason, many landscaping professionals and organizations with extensive grounds often find it more cost-effective to buy a dozer.
Success story: The quaint town of Bedford, Mass., located off Route 128, recently revitalized its housing market, removing many of the older single-family dwellings from post-World War II and replacing them with larger million-dollar estates. In addition to the demolition, these properties received extensive landscaping, grating the plots and removing countless tree stumps, reportedly retaining the historic feel while dramatically elevating the property values.
Get Quotes
We contact sellers
They compete for your business