What You Should Know About These Leading Bulldozer Brands
Earth moving equipment has come a long way in a very short time. Leading brands like John Deere, Komatsu, and Bobcat manufacture bulldozers designed for a wide variety of work environments (and even an even greater assortment of tasks). While modern attachments deserve a great deal of credit for a dozer's effectiveness and efficiency, they would all be for naught without modern hydraulics operation and a couple other primary benefits unique to this type of construction machinery.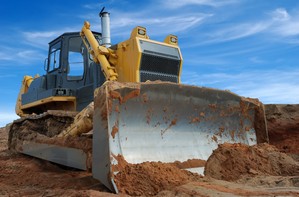 Hydraulic systems offer the capability to operate in various climates – from the arctic tundra to the rolling dunes of the world's deserts. Chief among these benefits is the incorporation of a hydrostatic drive, a system that enables the tracks of a bulldozer to be driven independently. In this way, the machine's movement is smooth and reliable during acceleration and deceleration, and works equally well in forward as it does in reverse.
Joystick controls are another plus of the hydraulic framework. Bulldozers can operate all functions from a single hand, including most of the work tools and travel direction. This not only provides more safety for the operator and those on the worksite, it also maximizes efficiency by reducing the time required to achieve tasks.
A final aspect of the hydraulic design is the bulldozer's low center of gravity. By building the motor and final drive into the track frame, bulldozers are able to provide higher degrees of ground clearance in comparison to other earth moving equipment. This further enhances their ease-of-use and maneuverability.
Three brands to be aware of
The bulldozer is a specialized piece of machinery. But most major brands that manufacture construction equipment will either have an extensive line or at least a version of this type of rig. Here are three of the most notable producers, recognized for their combination of quality, innovation, and cost.
John Deere – With a range in power from 70 to 335 hp, the expansive selection of John Deere dozers for sale is among the world's best. Operating weights range from 16,283 lbs to 77,843 lbs and machines provide excellent controllability. For example, the Tier 4-certified 450J offers a dual-path hydrostatic drive and heavy-duty undercarriage in either LT or LGP configurations. This option enables you to choose the exact design for your specific operating environment. Plus, most machines in this line also incorporate automatic load sensing, power management, and dynamic braking to provide the best combination of safety and performance – even on gradient surfaces.
Komatsu – Also known as "crawler dozers," bulldozers from Komatsu include both a pushing blade installed on the front of the machine and a set of claws, also known as a "ripper," on the back. This dual functionality elevates the operator's productivity by preventing the time required to change between these common attachments. Komatsu dozers range in output from 43 to 1,150 hp and have operating weights that extend from 8,179 to 336,425 lbs. Plus, they also have a variety of blade types, including PAT, Semi-U, Sigmadozer, and Angle dozer. Enhanced features, like those found on the D21, include long tracks and track rollers. The length of the track on this model further improves the center of gravity, stabilizing balance on slopes and in muddy work environments, while the rollers provide reduced maintenance costs through long lasting components engineered with lifetime lubricated idlers and track rollers.
Bobcat – Somewhat different than the other two vendors mentioned here, Bobcat manufactures a dozer blade attachment that's been designed to couple with their All-wheel Steer Loader, Compact Track Loader, Skid-Steer Loader, Telehandler, and Toolcat. In doing so, they enable the multi-purpose use of a number of their machines. The Bobcat bulldozer attachment transforms these machines into "mini-crawlers," offering blade sizes that range from 68 to 96 inches and operating weights from 900 to 1,580 lbs. With depth guides, the Bobcat design adjusts on the fly through a 6-way adjustable blade, offering blade angles of ± 30 degrees left or right and oscillation of ± 8 to 10 degrees.
Some important questions to ask
Trial and error is not the way to find the right construction machinery. So here's a quick yet comprehensive list of questions to ask of yourself (during the test drive) and pose to a dealer that will ensure you find the best machine and post-sale support to keep the dozer running as efficiently and effectively as possible.
About the machine
How do the hydraulic controls handle (smooth, jerky)?
How well do the tracks work when the machine is butted against a tree stump or other immobile object? (Note: track spinning or grinding is bad.)
What's the estimated annual cost for recommended maintenance?
If buying used, what's the condition and year of make? (Note: old machines may be hard or expensive to get parts for.)
With the condition and year of make in mind, how many hours has the dozer logged if buying used? (Note: high hours on a new machine is a red flag.)
If buying used, is there visible wear on the body of the machine, tracks, blade, or included attachments?
About the dealer
How long have you been in business?
What kind of parts inventory do you keep on site?
How many technicians do you have?
Do you provide on-site service?
What are your service hours in case of breakdown? And do you have guaranteed response times?
What kind of insurance do you carry? (Note: If they don't have proper worker's comp, one of their technicians who gets hurt while repairing a forklift at your facility could fall under your insurance.)
Get Quotes
We contact sellers
They compete for your business