Solving the New vs. Used Bulldozer Buying Dilemma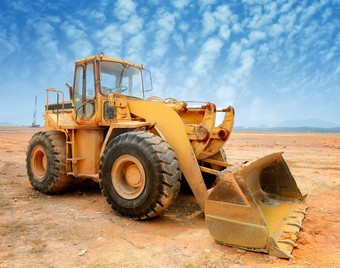 New or used – which bulldozer is right for your business? Some jobs and industries require the latest technology and others can scrape by with a sturdy and efficient older model. If you a mistake on a dishwasher or other small appliance, you'll have a few regrets and move on. That same mistake on a big piece of construction equipment has long reaching implications that will cost you for years to come.
Whether you choose a new or used dozer, making a list of the key features you must have will help you choose the right model. If you need tracks, but the dozer you are considering has wheels, chances are you won't be happy in the long run. Want full articulation and mobility? That tracked model may look impressive, but it won't perform the way you need it to.
Choose a used bulldozer if:
Consider a used bulldozer if you work in residential construction, demolition or offer general construction services, where standard equipment is used and you don't need the latest technology. If you need to keep your costs minimal or buy multiple pieces of construction equipment, a used bulldozer in good condition can help you stretch your budget and expand your capabilities.
Used bulldozer safety concerns
The age of a used bulldozer plays a role in more than just the price. According to the Occupational Safety and Health Administration, heavy construction equipment should not be modified or adapted in ways not recommended or authorized by the manufacturer. If a bulldozer has been previously owned, it is important to verify that there have been no significant off-book mods that would impact the safety or usability of the device.
You also have no way of knowing how the actual operators used the device – and there could be wear and tear on the safety features or other areas of the dozer. Asking about the number of operator hours will give you an idea of just how used that machine is.
Checking the latest OSHA guidelines and updates before purchasing a used piece of heavy equipment will help you keep both workers and your company safe.
Used bulldozer cost
While there are many factors to consider when you buy any large construction equipment, affordability is likely at the top of the list. In most cases, the differences between a new bulldozer and a used model are strictly cosmetic – a few dings or dents on the exterior. These minor aesthetic issues, however, will not impact your bulldozer's performance.
While prices will vary depending on the model, age and brand of the used bulldozer, a used CAT 924k would list for about $110,000 -- $50,000 less than the cost of a new model of the same dozer.
A used bulldozer that has been maintained well will give you years of service without an overwhelming price tag. If you do buy used, choosing a well-known brand like Caterpillar or Komatsu will give you peace of mind – and also make it easier to find the parts you need to service and maintain your fleet.
Although used heavy equipment will cost less than new machinery, it is still a significant purchase and the contract, terms and warranties should be reviewed carefully. Buy from a reputable vendor, and be sure to examine the piece to be sure it is in the condition described in the contract. Examine your sales contract and make sure your total cost is what you expect – and that any promises made at the point of sale are clearly spelled out in the document. Check for warranties on parts, included accessories and the operating system and make sure the process and the length of the warranty are clearly spelled out.
Choose a new bulldozer if:
A new bulldozer is best if you have specific needs that can't be met by generalized equipment. If you need to excavate with precision, build pipelines or tunnels or perform specific mining tasks, a new piece of heavy construction equipment can boost the efficiency and safety of every job you take on. The more technologically engineered and precise your work needs to be, the more likely you will need the latest in technology.
Most used bulldozers and heavy equipment are sold because they are technologically obsolete, or no longer suited to the jobs they need to perform. If you need cutting edge innovation, you will not find the latest models in the resale market.
Cost
There is no getting around it – a new bulldozer is a significant investment for any company, but one that holds its value well. Your new dozer will be an asset for years to come, and as long as you properly maintain it, you will be able to resell it and recoup some of your costs. Costs for new equipment will vary wildly, from a small wheel loader CAT model in the $160,000 – 175,000 range to larger pieces that cost three to four times that amount.
Safety
Safety is always an issue on the construction site – and for buyers of new heavy equipment. When you buy new, you can be sure that the pieces you purchase are up to the latest OSHA standards, and that they have not been misused or modified in any way.
As with any large purchase, make sure you clearly understand all sales terms and warranties, including buy back and incentive programs and service guidelines. Since your equipment is new, you'll need to know what would void your warranty (unauthorized modification and other potentially damaging actions) and what maintenance needs to be done to ensure your warranty is honored.
In general, if you need a good, sturdy bulldozer and don't mind a few cosmetic flaws, you can really stretch your budget by buying used. If you need specific equipment, equipment that is unusual for your area or want to know that your dozer is in factory rollout condition, buying new will give you peace of mind.
Get Quotes
We contact sellers
They compete for your business