Bobcat Compact Track Loaders
Bobcat began as Melroe Manufacturing Company in 1947 in North Dakota. Quality products, supreme workmanship, and trusted relationships are at the heart of Bobcat. The company aims to adapt to the changing needs of its customers.
Unique performance enhancements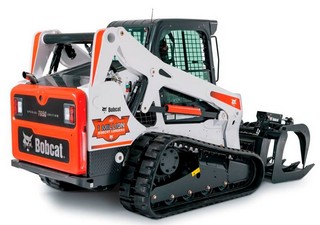 The Bobcat compact track loader could be referred to as the Swiss Army Knife of compact tractors. Construction workers, landscapers, and flat workers appreciate the compact track loader's maneuverability and versatility for leveling and moving dirt.
Bobcat's compact track loader can extend your working season and leave a lighter footprint at the job site. These tractors minimize ground disturbance through reduced ground pressure and improved flotation. You'll make fewer repairs to yards, lawns, and other existing surfaces because the tracks distribute the machine's weight across a larger area.
The Bobcat compact track loader boasts excellent digging and pushing power. Thanks to increased weight and more ground-to-surface contact, this tractor affords better power and performance in difficult soil conditions. Rough terrain, including sandy surfaces and muddy conditions are no problem for the Bobcat to push cumbersome loads. The tractive effort is strengthened by direct-drive motors, solid-mounted undercarriage and outstanding machine weight-to-horsepower.
The M Series model offers a variety of features and options:
[table] Model, Rated Operating Capacity (SAE), Horsepower, Operating weight, Cost estimate T870, 3525 pounds, 99.2 HP, "12, 678 pounds", "$65,000-$75,000" T770, 3475 pounds, 92 HP, "10,327 pounds", "$60,000-$70,000" T750, 3325 pounds, 85 HP, "10,327 pounds", "$45,000-$65,000" T650 T4, 2570 pounds, 74 HP, "9,321 pounds", "$40,000-$60,000" T630 T4, 2230 pounds, 74 HP, "8,742 pounds", "$40,000-$55,000" T590 T4, 2100 pounds, 66 HP, "7,948 pounds", "$38,000-$55,000" T550 T4, 1995 pounds, 66 HP, "7,633 pounds", "$35,000-$50,000" [/table]
Features and attachments
When comparing compact track loaders, you can be assured the Bobcat operator environment is comfortable and user-friendly, with enhanced ergonomics for ease and efficiency. There are dozens of choices for attachment controls and mounting systems, all manufactured for productivity and durability.
They're engineered to integrate with the electronics, hydraulics, and geometry of Bobcat carriers. Some examples are the three point adapter, angle broom, auger, and asphalt preservation tools.
Maintenance
It's better to control operating costs with regular, routine maintenance. Bobcat makes it quick and convenient to service your compact track loader with the following:
Service: The swing-open tailgate, transversely-mounted engine, and one-sided serviceability enhance ease of use when checking engine fluids and filters, examining the air cleaner, and inspecting the battery.

Hydraulic components: It's quick to access hydraulic and hydrostatic components by removing two nuts and tipping the cab. No special tools are required as they may be with other brands.

Radiator and oil cooler: Cleaning the engine components is a snap thanks to easy access.
Reviews
When researching reviews, consider the similarities and differences between reviewers' track loader uses and your own present and future needs. Read what satisfied customers have to say about the Bobcat M-series:
"My employees really like the ease of changing buckets. They like the ability to go from digging with a 36-inch bucket, dropping down to a smaller one to lay pipe, and then going back to the bigger bucket to backfill. It takes a third of the time to change them compared to our backhoe loader." - Tim Royer, assistant director of public works, Waukee, Iowa
"We'll take our E80 and T300 compact track loader to the site, dig up the dirt, put it in our dump truck, backfill the area with new dirt and reseed it. The sweeper takes the place of four or five men. It sweeps the material into the bucket, and I dump it into my truck." - Garry Sparks, owner or Stat, Inc., Lenoir, North Carolina
Get Quotes
We contact sellers
They compete for your business