Case Compact Track Loaders

For the last 170 years, Case has powered the progress of agriculture. It all began in 1831 when Cyrus Hall McCormick demonstrated at a Virginia tavern how the mechanical reaper could cut 10 acres (as much as five men) in one day.
Today, Case boasts a product line that includes UTV's, skid steers, and compact track loaders. With agronomic design always guiding their product development, Case continues their legacy of leadership in agriculture machines.
Case offers equipment for each step in the farming cycle:
Tractors
Compact track loaders
Planting and seeding
Application equipment
Harvesting
Tillage
Hay and forage
UTV
Skid steers
Loaders and attachments
The Case compact track loader handles all tasks on the farm from mowing grass and sweeping hay to clearing brush and cleaning up barns. Other industries, such as landscaping, construction, utilities, and government, find Case compact track loaders helpful for digging, excavating land, leveling roads and yards, and transporting material such as soil, rock, or bark dust.
Features
Case compact track loader models offer outstanding power with exceptional hinge pin height and bucket breakout force. The pressurized, spacious cab and extensive choice of controls mean that Case delivers unsurpassed operator comfort and productivity.
In terms of lift, choose from radial or vertical. Various jobs determine whether your Case compact track loader needs radial or vertical lift.
Radial lift provides more forward reach than vertical, especially at mid-range heights. Utilize radial lift for dumping over walls or onto flatbed trucks.
Vertical lift is designed for greater reach at full lift height; the lift path keeps the load closer to the machine. Vertical lift offers safer power, lift, and reach than radial. Landscapers choose vertical lift for lifting and dumping bricks, blocks, and sod.
Popular models include:
[table]Model, Lift, Engine Power, Operating Weight, Cost estimate TR270, radial, 68 hp, "8, 270 lbs.", "$40,000-$60,000" TR320, radial, 84 hp, "9,600 lbs.", "$45,000-$70,000" TR 380, vertical, 84 hp, "10,200 lbs.", "$50,000-$80,000"[/table]
Maintenance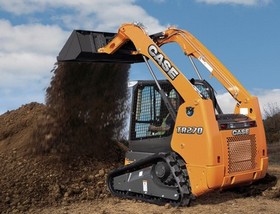 All routine service points are located at the rear of Case compact track loaders, allowing accessibility to the engine, filters and fill points to properly service and extend the life of your Case machine.
Equipped with the EZ EH software, and upgraded control handles, it's simple to customize the compact track loader's control settings. The triple flange, lifetime sealed rollers help prevent de-tracking on inclines and boost productivity. You can also optimize your high-performance attachments with optional high-flow (32.4 gallons per minute.)
Attachments
The Case compact track loader can be tailored to tackle any job, thanks to a huge selection of attachments. Approximately 48 different attachments, from buckets and forks to tillers and trenchers and the new hydraulic hammer, ensure you can get the job done with efficiency and safety.
The hydraulic hammer is ideal for demolition, construction, and road maintenance. Additionally, it comes with a two year warranty and two moving parts, a low pressure gas charge and a low hydraulic surge.
Buy vs. rent options
If you're in the market for a brand-new compact track loader, the benefits are working with a knowledgeable dealer to find the best machine and attachments, buying a quality, pristine track loader, choosing from special financing options, and getting a comprehensive warranty to protect your investment.
Buying a used compact track loader is the less costly alternative. Make sure to consider the appearance (nicks, dents, scratches), the life of the engine, and find out how many hours it's been used. All these factors determine the quality of a used machine.
One good option is to purchase a compact track loader that was used for one season as a harvest rental. That means they're still in decent shape after two-to-three months, and there may be financing options with low terms.
Before committing to purchase a compact track loader, consider how many times you will use it, and if it will make a significant return on investment. If not, renting for the short term may be the most practical choice.
Customer focus
Case invites equipment users to help define and improve their products through "Customer-Driven Product Definition." Through this process customers help Case better understand their target market's needs and work with the company to develop and test new models that respond to those needs.
The following are input samples from participants:
"Usually, a manufacturer builds the machine, puts it out in the marketplace and says, 'What do you think?' To be included in the design and evaluation process was really top-notch. We suggested changes, and Case did its best to accommodate them." - Dennis Zenter, Delta, British Columbia
"I had an awesome time in the program. It is really neat to sit down with a room full of equipment engineers who wanted to hear what we thought. They didn't just want to hear what was good, but what we wanted to change." - Jordan Hess, Coon Rapids, Wisconsin
Get Quotes
We contact sellers
They compete for your business