New Holland Compact Track Loaders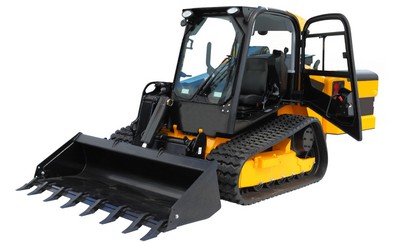 New Holland's first backhoe loader was manufactured in 1966. When New Holland merged with Fiat in 1991, their agricultural and construction machinery offerings grew exponentially. Then, in 2005 New Holland Construction is born.
Five historical brands, Fiat, Fiat-Kobelco, O&K, New Holland and FiatAllis joined forces under the umbrella of the New Holland Construction name.
Popular models
The 200 series track loaders feature superior reach and dump height, boosting operator productivity and profits. Regardless of muddy or sandy conditions, New Holland compact track loaders boast outstanding traction and stability. The low ground pressure provides maximum flotation and minimum soil disturbance, making them ideal for landscapers.
The visibility of New Holland compact track loaders give operators a 360 degree view of their job site, thanks to new lighting and the best in rear windows. Additionally, the 200 Series also feature 20 - 25.5 gallon fuel tanks, allowing operators to work up to 10 hours before refueling.
[table]Model, Lift, Engine Power, Operating Capacity Estimated Cost
C227, radial, 70 hp, "2,700 lbs.", "$40,000-$65,000"
C232, vertical, 76 hp, "3,200 lbs.", "$45,000-$70,000"
C238, vertical, 84 hp, "3,800 lbs.", "$50,000-$80,000"[/table]
The C232 and C238 compact track loaders feature the patented vertical lift Super Boom® design, delivering the industry's highest forward dump height and furthest reach. The self-leveling bucket feature on each model allows attachments to maintain a preset location throughout the lift cycle.
Maintenance
Thanks to quick and easy servicing, New Holland compact track loaders can actually lower your operating costs. Every major service point is reachable, even with the boom down. Checking the engine oil, hydraulic oil, radiator coolant and fuel fill is simple to do through the rear access door.
Air filter maintenance is simple and routine with an accessible side-out element. The entire boom and cab assembly lifts up and tilts forward for unobstructed engine and transmission entry, if ever the need for major repair arises.
Buy vs rent
Purchasing a brand-new compact track loader means special financing and a warranty to protect your investment. Used machines may be less costly, so be sure to consider the appearance, engine, and how many hours it's been used.
If you are in the market for a used compact track loader, consider buying harvest rental. They're typically in better shape, as they were only used for two or three months during the harvest season, and there may be financing options with low terms. Before committing to purchase a compact track loader, consider how many times you will use it, and if it will make a significant return on investment. If not, renting for the short term may be the most practical choice.
Get Quotes
We contact sellers
They compete for your business