Hitachi Excavators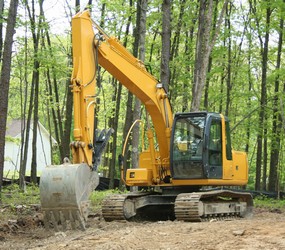 Hitachi brings a large lineup of excavators to consumers including compact excavators, standard excavators, reduced tail swing excavators and wheeled excavators. Hitachi excavators have a number of appealing features including the fuel-efficient engine, spacious cabs with wide doors, and features that allows operators to simultaneously dig, rotate and propel with ease. Increased hydraulic power maintains stability, while regenerative flow provides exceptionally fine controls, as well as multitasking features.
Hitachi excavators are organized into several different categories:
Excavators & Shovels (EX Series)
Compact Excavators
Standard Excavators
Reduced-Tail-Swing Excavators
Wheeled Excavators
Hitachi excavator specifications
The chart below compares each category of Hitachi Excavators and highlights a range of key specifications for each category. [table]Model, Max Digging Depth, Min. Front Swing Radius, Max Bucket Force, Max Arm Digging Reach, Emission Rating, Estimated Cost E-Series, "4,100 - 11,470 mm", "6,140 - 10,900 mm", "127,916 - 138,000 lbs", "17,330 - 18,500 mm", Tier 4, "$350,000 - $500,000" Compact, "2370 - 4120 mm", "1,540 - 2,450 mm", "3,597 - 13,547 lbs", "3,900 - 6,230 mm", Tier 4, "$30,000 - $60,000" Standard, "6,060 - 9,570 mm", "2,400 - 5,950 mm", "24,345 - 89,699 lbs", "8,200 - 14,100 mm", Tier 4, "$30,000 - $55,000" Reduced-Tail-Swing, "4,610 - 6,620 mm", "1,810 - 2,720 mm", "10,476 - 35,522 lbs", "6430 - 9620 mm", Tier 4, "$80,000 - $160,000" Wheeled ,"5,830 mm", "2,320 mm", "2,2916 lbs", "9,580 mm", Tier 4, "$130,000"[/table]
Tier 4/ EU Stage IIIB Isuzu diesel engine
Hitachi excavators are implemented with a dynamic, fuel-efficient Isuzu engine that fully meets Tier IV emissions standards. This means Hitachi excavators are qualified to work in areas rated as nonattainment areas by the Environmental Protection Agency (EPA). The engines are extremely low-maintenance as well, requiring no special fluids besides fuel and oil. Tier IV engines are higher-priced than Tier III due to numerous upgrades. Electronics, hydraulics and fuel efficiency are just a few of the areas that have improved drastically from Tier III to Tier IV. Hitachi has fully-implemented Tier IV compliant engines into their current line of excavators.
The spacious cab
Hitachi excavators have cabs that are larger than typical excavator cabs. The Hitachi cabs feature more foot room and more glass for a less-confined feeling. There is also a wider door and more side room so the operator won't be as cramped while in the cab. The high-back seating allows operators to feel more comfortable while the increased slide range allows custom positioning to fit the operator's needs.
Remote monitoring
Each Hitachi excavator comes with three years of monitoring from ZXLink™ Ultimate (additional years are available for purchase). The ZXLink™ Ultimate remote monitoring service provides anytime access to the machine's location and stats. The machine's location can be tracked at all times in order to prevent theft or loss. The real-time monitoring allows the machine's activity to be tracked as it is in operation. Here are some of the functions that can be accessed in real time:
GPS location of the machine
Hours on the machine
Full machine history
Maintenance
Updates (if needed)
File downloading
Fuel levels and consumption statistics are available, and the service provides alerts when maintenance or repairs are required. This helps reduce costs and downtime, and provides additional security features to prevent loss.
Three work modes
Because types of terrain vary, Hitachi has implemented three different digging operational modes: High productivity, Power and Economy.
Economy focuses more on fuel conservation than on power and digging efficiency.
Power provides a balance of power and productivity in order to effectively reduce fuel consumption.
High Productivity utilizes maximum power for a more efficient digging rate.
Get Quotes
We contact sellers
They compete for your business