Generac Delivers Power and Peace of Mind
Generac has provided quality generator products for more than fifty-five years. They were the first to manufacture affordable standby generators for the home and have expanded to portable, residential, industrial and commercial generators. Their generators have a watt range from 3500 watts to 50kW.
Generac prides itself on the power of their products. They offer multi-megawatt paralleling solutions and push innovation in simple ways, such as two generators stacked in a single space to conserve space and optimizing muscle. Their generator sizing software, Power Design Pro ™, gives engineers a commanding tool in specifying generators.
Fuel options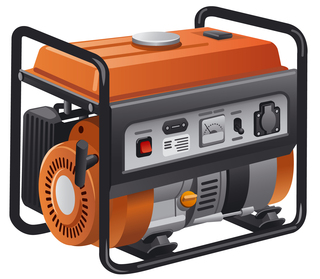 In addition to electric power, Generac generators have three different fuel options: gaseous, diesel and bi-fuel. Gaseous, or natural gas, generators are hooked into a utility provider, giving them long run times. They also emit fewer particulate matter and nitrogen oxides for fewer emissions.
Diesel fuel is a more traditional choice, especially in high wattage situations. Diesel fuel can be stored on site as required by some codes for hospitals and call centers. It is an excellent choice for remote areas. Generac has worked with diesel engine manufacturers to ensure their generators function in tough conditions.
Bi-fuel generators are not a new concept in generator power. They start on diesel fuel and move to natural gas for running time. Generac offers the capability as fully integrated instead of after-market, the way many other manufacturers do. By ensuring each component works in harmony with the others in the factory, Generac bi-fuel generators are EPA compliant.
Solutions for your business
Construction and industrial companies have utilized Generac generators for a number of commercial uses. Lost power means lost time, lost revenue and lost customers. Meet the challenge in your industry with some of these solutions.
Manufacturing and warehouse. Losing power for even a short period of time creates downtime as equipment is set up and materials made ready. For warehouses in which climate control is crucial, an extended power outage means loss of product. Using a Generac standby generator like the Generac Diesel 400KW will ensure you continue operations and storage uninterrupted in any situation.
Education. Innovative and expensive research to improve or save lives is happening on campuses all over the world. University research and development is a billion dollar industry in which a power outage can affect lab animals, samples and years of research. Generac Bi-Fuel SB500 500kW – 600kW can ensure continuity and survivability for your laboratory.
Healthcare. The lack of backup power in a healthcare facility literally means loss of life. Generac has standby options, like the Gemini 1000kW, that comply with NFPA 99, NFPA 110 and other national and local regulations to ensure the facility keeps running inside regardless of what is going on outside.
Grocery. Food suppliers have a lot to lose in case of a power outage. Produce, meat and other product can perish in as little as two hours. Stores see high consumer traffic before and during major weather events as consumers prepare to wait out the storm. Be open for business with a Generac Gaseous 80W-100kW standby generator.
Solutions for the home
Generac also has standby options for home use as well as portable generators. Their home standby options have sensors to recognize outages and start within seconds. Hooked up to natural gas utility lines or an LP tank, they deliver power into the home's electrical system for full power or for essential items.
Portable generators make doing projects at home easier and can also be used as backup power in an emergency. While portable generators may not power an entire house, they can keep the important items like lights, refrigerators, freezers and climate control units running. You can take them camping, tailgating and anywhere else you may want electrical power.
Service and support
Consistent maintenance helps ensure a long life of high performance from your generator. While Generac suggest all maintenance is performed by a service representative at an authorized dealer, they do sell maintenance kits for each model generator. Such kits include:
Air and oil filters
Spark plugs(s)
Spark plug wrench
Oil funnel
Chamois and reminder sticker, depending on the model
Generac also offers an extended five year warranty through Generac Industrial and Residential/Commercial dealers. In addition, they provide customer service and support through their website, where you can find specifications, product manuals, frequently asked questions, even how-to videos. It has an online chat feature to communicate with a service representative. They also have a customer care call center with help available 24 hours a day, 7 days a week, 365 days a year.
Generac also has a wide variety of standby generator transfer switches and controllers. The switches protect both the generator and household electrical system from the surges that come with the restoration of power.
Get Quotes
We contact sellers
They compete for your business