Honeywell Hits the Mark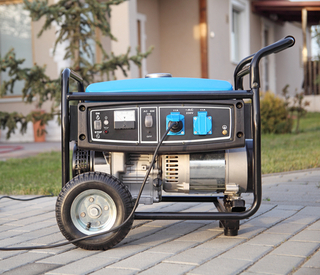 A Fortune 100 company that began in 1885, Honeywell has spent the last 125 years addressing some of the world's toughest challenges through innovation and technology. As one of their many product lines, Honeywell generators bring that innovation to your home or business, offering peace of mind and efficient energy use.
Power options
You want to cover and protect what is important to you. To that end, Honeywell manufactures three different categories of generators and many different models. Each type strives for quiet operation, clean fuel consumption and long life regardless of conditions.
Portable generators by Honeywell are built to last with a steel frame, heavy-duty tires and locking, fold-down handles. They start with the touch of a single button and have an intuitive and user-friendly control panel. Every model comes standard with a low oil sensor to shut it down for engine protection and have a run-time from 7.5 hours to 9 hours.
Their inverter generators are a version of a portable generator that takes the power generated and runs it through an electronic microprocessor. This makes it safe for sensitive devices like computers, as well as quieter than a traditional portable generator. They provide just as much power but are 30% lighter and have a handle for easy transport.
Backup and standby models will automatically start within seconds of a power outage. Built with rustproof materials designed to withstand 150 mile an hour winds, a Honeywell residential or commercial generator is reliable, quiet and runs on existing LP or natural gas supply.
You can monitor generator status through the Mobile Link™ app on your smartphone, tablet or computer. When there is a change in the status of the generator, Mobile Link™ sends an update to a website which in turn forwards that information to your device by email and/or text notification.
Mobile Link™ features 40 different warnings, from maintenance reminders to fault alerts. It can also be used to review maintenance history, set the exercise schedule and can even send notifications right to your local dealer for service while you are away.
For your home
Honeywell has a broad range of wattage power, giving you the ability to run every critical and desired circuit in your home in the event of a power outage. Even large generators run quietly with low speed 1800 rpm engines within sound-reducing foam panels encased in a RhinoCoat™ aluminum enclosure. Their generators have sensors that can be programmed to recognize a power outage and start automatically.
Honeywell's nine residential models run from 8kW to 45kW. 8kW will allow you to run necessary appliances like your refrigerator or HVAC system during a short power outage. The larger generator you purchase, the more wattage you can use. A 45kW generator will allow you to run the average home like normal for an extended period of time, powering essential items while allowing for the surges that come with operation of a washer/dryer, dishwasher and other smaller appliances all at the same time.
For your business
Protect your data, inventory, security systems, employees and productivity with a standby generator from Honeywell. Every industry has different needs. Construction companies need constant power on their job sites. Warehousing environments need to maintain climate control while manufacturing plants need to keep their assembly lines moving. Every minute without power directly affects the bottom line in retail and grocery while the lack of power means the loss of life within the medical field.
Regardless of your needs, with nine models ranging from 25kW to 150kW, there is a commercial generator that will keep you up and running in all conditions. For further customization, choose from a single phase 240 volt to a three phase 480 volt to meet your particular requirements. For industries with regulatory requirements, like hospitals, Honeywell ensures you will meet every one.
Support and maintenance
Honeywell backs all of their generators with a warranty – 3 years on residential and 1 year on commercial. Extended warranties can be purchased. Each generator also has an easy to read hour meter to calculate scheduled maintenance. In addition, all standby generators are programmed to run a weekly self-test with Honeywell's patented WhisperCheck™ technology. WhisperCheck™ runs more quietly than normal operation and provides an additional measure of security that the system will work when you need it to.
Honeywell portable and standby generators have a strong history of innovation, success and customer satisfaction. Building upon core values that have taken the company into two different centuries, you can rely on Honeywell and their generators to be there when you need them.
Get Quotes
We contact sellers
They compete for your business