An Overview on Motor Powered Generators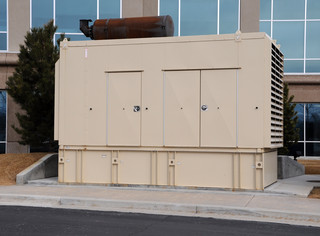 Motor powered generators provide power in situations where the normal supply is cut off or supply is nonexistent. Since motor powered generators run on different types of fuels, they can be used anywhere, anytime. Used as both standby and portable power options, motor powered generators come in several different models, sizes and power types.
Fuel types
Natural gas generators
Natural gas generators use natural gas to make electricity. This can be as simple and portable as the tanks you use for your grill or the generator can be hooked right to the line run by your local utility company. Unlike some other motor powered generators, natural gas generators burn a gaseous fuel, not liquid, so they have a carburetor designed specifically to manage pressurized gas.
The cost of natural gas tends to fluctuate less which helps offset the 10 to 20% higher up-front costs than other models.
Diesel generators
Diesel provides a reliable power source for standby and portable generators. They can provide a steady supply of power because of the high torque of diesel engines. Diesel generators can restore power within 10 seconds of an outage. Even portable options have large storage tanks for storing and hauling. Diesel is readily available as a fuel source and can produce twice the kilowatts of a gas generator, giving you more bang for your buck.
Propane
Propane generators are either hooked up to existing supplies (home or business back up model) or run off of propane cylinders. Depending on use, hauling and storing the cylinders may be inconvenient. Propane is cheaper than gasoline or diesel but not as fuel efficient. As such, it is a better emergency option than in an operational capacity.
Biogas generators
Biogas is made up primarily of methane, hydrogen and carbon monoxide gases. When compressed or oxidized with oxygen, it releases energy that can be used for fuel. Biogas generators have a small carbon footprint, making it the primary "green" choice, and has high fuel efficiency.
Popular models
[table] Brand, Model, Output, Fuel, Coolant, Intended Use, Lifetime Average Cost Subaru, RGD330H, 3000 watts, Diesel, Air, Professional; Backup, "$10,000" Pramac, S5500, 5000 watts, Diesel, Air, Professional; Backup, "$12,000" Winco, HPS6000HE, 5500 watts, Natural Gas, Air, Professional; Backup; Recreational, "$8,000" Generac, 6237, 8KW, Natural Gas, Liquid, Professional; Backup, "$8,500" Winco, HPS9000VE PKG, 8000 watts, Natural Gas, Air, Professional; Backup; Recreational, "$10,000" Champion, 71531, 7500 watts, Propane, Air, Professional; Backup; Recreational, "$3,500" Cummins Onan, RV QG6500, 6.5kW, Propane, Liquid, Recreational, "$20,000" Generac, VXG6500, 6500 watts, Gasoline, Air, Professional; Backup; Recreational, "$6,500" [/table]
Choosing a generator
The first step is to determine what size generator you'll need; to do this, you must first decide what you want to power and add up the wattage. It is very important to choose one capable of producing the right amount of watts. Too few watts and you will strain the generator, minimizing its life cycle or continue to blow breakers. Too much wattage could be a significant waste of money.
Wattage is calculated by multiplying the number of volts and the number of amps. That gives you the max number of watts that a particular tool will use at one time. Add up the wattages for the tools you plan to use at one time and that will give you the starting point for choosing a generator that will meet your needs.
Secondly, think about fuel. What type do you want to use? Consider cost and accessibility. Also consider tank size and running times. How long do you want it or need it to run? If you are only going to use for odd jobs or in the event of an hours long power outage, running time may not be a critical factor. How often are you willing to pour more gas in or switch out propane tanks? If you are using the generator as a long term solution for performing work on a job site all day, having long run times with adequate fuel is a priority. Having a generator for just standby purposes can also result in expense for hauling and storing.
Next, look at maintenance and additional costs. How much maintenance does the model generally need? Does it come with a warranty or maintenance package? Do not assume all models come with every part you may need.
For instance, if you are connecting the generator to your home as a backup power source, you will need a transfer switch to protect both the electrical system of your home and the generator in the event the power comes back on. It's important to bring these points up when speaking with a dealer.
Finally, decide where you want to run the generator and any safety concerns surrounding the issue. Run the generator outdoors and as far away from inhabited areas as possible. Running a generator indoors can lead to carbon monoxide poisoning and other air problems. Also be sure to stay within the rated wattage of the generator. Too many appliances can not only trip the circuit breakers but put strain on the generator.
Get Quotes
We contact sellers
They compete for your business