In Search of Temporary Office Space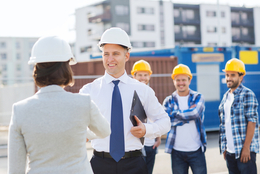 You need temporary office space. There are a myriad of options and possibilities out there for everything from construction office trailers to portable office buildings. How do you figure out what you need? There are several considerations to help you narrow down your choices.
Space
How much space you need depends on what you are going to use it for. Will customers enter it? Or it is just for employee use? Consider the type of employee as well. Clerical employees will need room for desks, filing cabinets and storage. Construction employees coming to fill out paperwork or take breaks need an area to do those things. If both will use it, perhaps there needs to be a side just for employees and another entrance and area for customers to conduct business.
Features
Do you need desks built-in? Are you going to need air conditioning or heating? If you are working on a construction site, vinyl floors are better than carpeting. If you are using the job site trailer for sales and customers, carpet with paneled walls and a coffee bar give the space an expert air.
Also consider accessories offered. Skirting can make a temporary space appear permanent. Solid steps and ramps that are pleasing to the eye as well as practical add safety and professionalism.
Looking for portable restrooms for a job site or your business? Purchasing.com can connect you with professionals who can meet your needs.
How many workers will be using the office space?
The average rule of thumb in temporary space is 100 to 150 square feet per employee. This is good basis to use for calculations. How many employees do you have? Will they be working in the facility their entire shift or will it be used more by transient traffic? This has bearing on the size of the facility but also the quality of work life for your employees, an important consideration.
How long do you need it for?
If you are only going to be in for a matter of weeks or a few months, perhaps the accessories are not as important as simple efficiency. If you are taking mobile offices to new job sites every few months with the same employees, then aforementioned quality of life should be considered with how easy the space is to tear down and put up. You can find temporary office space companies that will do that for you.
Cost
The cost of office trailers for rent varies based on time needed, what you need for delivery, set up, tear down and much more. Office trailers for sale, such as used construction trailers, are normally priced by size. Purchasing a small office trailer starts around $7,000 and up, while larger, custom-built trailers can cost $30,000 or more.
The following table provides some baseline rental and leasing rates that vary based on size required and delivery and set up costs.
[table] ,3 month, 6 month, 9 month , 12 month
Rental, "$375 - $1,200", "$750- $2,400", "$1,125 - $3,600", "$1,500 - $4,800"
Leasing, "$375 - $2,400", "$750 - $2,100", "$1,125 - $3,150", "$1,500 - $4,200"[/table]
The price you pay for your mobile office trailer will be affected by the considerations above. Be sure you know what you need to ensure you pay the minimum price for maximum utilization.
Get Quotes
We contact sellers
They compete for your business