Portable Restroom Add Ons
Standard portable restrooms are suitable for some construction applications, however many companies require upgraded or deluxe models that offer more amenities, including greater comfort and ease of use. This is particularly true at project sites that are scheduled to operate for an extended period of time, or mobile projects that persist indefinitely (road work, highway maintenance, etc.)
If you need added functionality or convenience from your porta john rentals, here are some common portable toilet add ons that can help.
Portable restroom sink. A sink improves hygiene, sanitation, and helps protect the health of workers, especially if the portable restroom is heavily trafficked or deployed for long-term use. Most sinks use a hands-free foot operated pump system, with an internal tank containing 20+ gallons of water; used water is routed directly to the main holding tank. Sinks can be fit into most deluxe-size portable and chemical toilets.
The extra rental cost is typically that of upgrading from a standard to a deluxe portable restroom, or about $20/day or $50/month more; purchased individually, portable restroom sinks cost $250-300.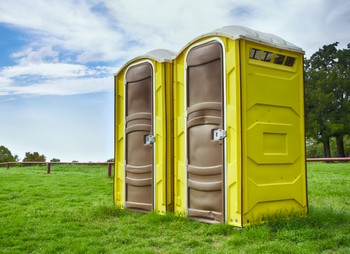 Portable toilet liquid soap dispenser or foam hand sanitizer dispenser. These portable restroom add ons allow for more effective washing. A liquid soap dispenser or foam hand sanitizer usually comes with a sink, at no extra cost for a rental, and hand sanitizer may even be included as part of a standard unit.
Purchased separately, these items cost around $30.
Portable restroom paper towel dispenser. Convenient for drying hands after using the sink. Deluxe units that include a sink almost invariably include a paper towel dispenser, at no extra charge.
Chemical toilet with split tank. A split tank is the optimal portable restroom solution for cold weather work sites. The split tank design allows frozen waste to be removed for thawing, while a new tank is replaced to ensure no interruption of service. Split tanks are also commonly used in high-rise construction, where it's more convenient for servicing simply to remove and replace the tank.
Cold weather-located vendors may rent split tank portable restrooms as standard, otherwise expect a small added fee for rental of $10/day or $20/month extra.
Recirculating flush portable toilet. Flushable units allow for greater comfort and cleanliness and are a popular choice for sites where construction or renovations are taking place while a location is still open, or otherwise accessible to the public.
The rental price is usually the price for a deluxe unit, or about $80-120/day or $150-200/month. Purchased as an upgrade to an existing unit, a recirculating flush system costs about $400.
Shelving for portable restrooms. Shelving provides space for additional storage of toilet paper, soap, and other supplies, or may provide a convenient place for patrons to place small tools, tool belts, or other items while using the unit.
Shelves are usually fitted into the interior corner of a unit or around the vent stack, in a pre-fabricated slot designed for this purpose. Individual shelves cost $10-20.
Portable toilet locking kit. Locking kits are used to secure portable and chemical toilets after hours and prevent unwanted use or vandalism.
They typically consist of two easy-to-install steel plates, a hasp, and a padlock. Portable restroom locking kits cost around $15.
Portable toilet gender ID signs. Gender ID signs allow you to designate separate mens' and women's portable restrooms, for added comfort in high-traffic areas.
Signs are usually available from your portable toilet rental company at no extra charge; if you need to purchase them, a set costs about $20.
Get Quotes
Provide a few details about your portable restroom needs
We contact sellers
They compete for your business