Best Portable Restroom Options at Construction Sites
Portable restrooms are a necessity at construction sites and it is important you have facilities available that match your needs. Overestimating your needs results in paying too much; underestimating your needs creates even worse problems of worker inconvenience and an unhygienic work site.
We've compiled request data from our users so far in 2016. In the diagram below, it's clear to see that portable toilets are a more popular option than the restroom trailer.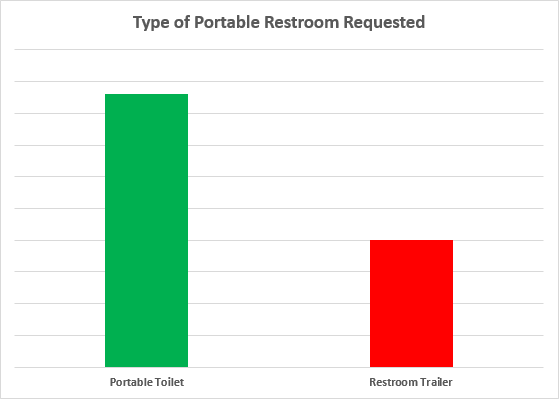 Because portable and chemical toilets are so important to the construction industry, there are many options available to ensure you have exactly the right units available to meet your needs. Here are the most common portable restroom types and options to consider.
Standard porta-potty:
This designation includes standard portable toilets as well as larger, deluxe portable restrooms. The standard size provides solid performance at value pricing and is perfect if you do not require extra amenities. The deluxe size may provide several conveniences and amenities, including extra room, sink, soap or sanitizing hand foam dispenser, paper towels, shelving, ADA-compatibility, and flush-action toilet. Dimensions for standard size are about 90-inches exterior height and 45-inches exterior width. Dimensions for the deluxe size are about 90-inches exterior height and 62-inches exterior width.
Standard $60-100/day or $150-300/month, deluxe $100-150/day or $300-500/month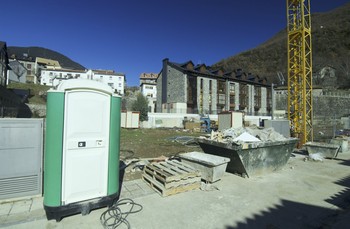 Some additional notes for standard and deluxe porta john rentals:
Blow-molded construction may be an option if you are considering purchase: this design eliminates half the parts required, for significant savings in maintenance and repairs.

Translucent roof or "solar roof" design provides better interior lighting during daylight hours. Natural light is allowed in, without degrading privacy.

Smooth-sided portable toilet design makes cleaning easier, a definite convenience for long term rentals and where hygiene is prioritized.
High rise porta potty:
These portable restrooms and chemical toilets are designed to be hoisted by crane or elevator into high-rise building projects or other construction sites that are at significant elevation. Transportability is prioritized, so these units are typically smaller and more compact than standard portable toilets, but they still provide the same level of functionality. Construction is sturdy, to withstand rugged use. Many designs do not feature roofs: optimal privacy is typically not required and this improves transportability.
Rolling high rise porta potty:
This format is derived from the standard high rise portable toilet design, with two common distinctions: smaller size and inclusion of heavy-duty casters. Smaller size may feature partial door, open top, and reduced tank size, and allows these units to be fit in tight spaces with height restrictions that otherwise would not allow a restroom. The heavy-duty casters provide rolling high rise portable toilets optimal mobility and ease of installation in tight quarters.
Large trailer restrooms:
These portable toilet units are optimized for large construction projects with significant need for comfortable restroom facilities. Large trailers may feature four or more stalls, with half as many sinks. Soap or foaming hand sanitizer and paper towels are included. Most large trailer portable toilet rentals feature flushable toilet action. The large size and added amenities also allow for improved hygiene and convenience.
Waste tank expansion:
Some models of portable toilets include the option for expanded size waste tanks. Larger waste tanks allow for increased time between servicing and waste removal. Pricing for porta john rentals is mostly a function of how often they need to be emptied; larger waste tanks reduces the frequency of servicing and results in greater cost savings over time.
Get Quotes
Provide a few details about your portable restroom needs
We contact sellers
They compete for your business