Portable Restroom Rental Considerations
Cost may be foremost on your mind, however there are several important considerations to account for when deciding the details of porta john rentals. The choices you make regarding length of rental period, exact type of portable restrooms, whether you need ADA-compliant portable toilets, will all help define a rental experience that works best for you. Consider the following aspects of your rental to ensure you end up with the right portable toilets for the job:
Length of rental. Rental period length for portable toilet rentals affects the pricing. In general, the monthly rate is a substantial bargain compared to the daily rate, which reflects that servicing and waste removal is what drives costs, not the unit itself. If you have any uncertainty regarding how long you need a porta john rental, seriously consider the monthly rates.
Standard portable toilet rental: $60-100/day or $150-300/month
Heavy-duty or deluxe portable toilet rental: $100-150/day or $300-500/month [optimized for ease of use]
Hi-rise porta john rental: $100/day or $200/month [for elevated sites]
Rolling portable restroom rental: $300/day or $800/month [road and highway or other highly mobile projects]; $500/day or $1000+/month [super-deluxe trailers]
Below is the breakdown of the typical rental duration from Purchasing.com customers so far in 2016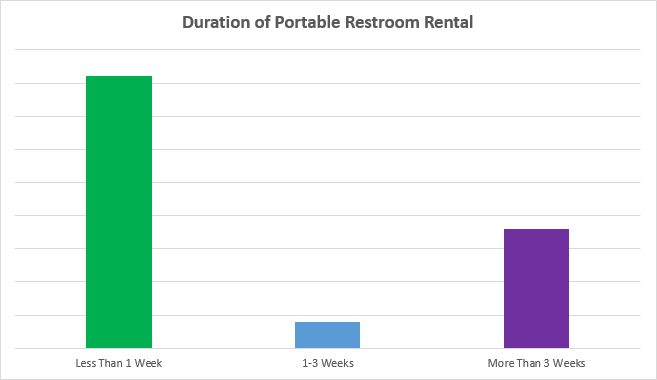 Number of portable toilets. Assuming an 8-hour workday, a single portable restroom can typically accommodate 10 workers with no difficulty, two portable restrooms for 20 workers, etc.
Restroom trailers ($300/day or $800/month; $500/day or $1000+/month). Restroom trailers are a preferred choice over standard portable toilets when optimal mobility is required. Construction jobs that move quickly or regularly, such as highway work, road maintenance, and clearing large areas of land, benefit from having portable restrooms able to keep up with highly mobile crews. Trailer mounted standard portable toilets typically come in groups of 2+ per trailer.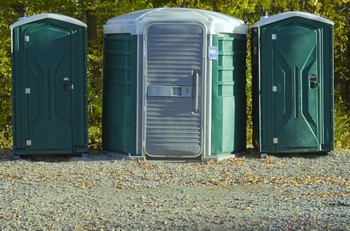 Very large, super-deluxe portable toilets are also trailer mounted. These units contain all the amenities, including sinks, soap and towels, extra room, and in some cases even showers. When comfort and convenience are your most important consideration, these loaded porta john rentals are your best choice.
Standard vs. deluxe portable toilets ($100-150/day or $300-500/month). The difference is in added amenities. Deluxe porta john rentals typically include not only more space and greater comfort, but also a sink with soap and towels, flush-action toilet, and shelving. For long term work sites, or those where extra attention to good hygiene is desired, deluxe portable toilets offer a substantial upgrade in performance.
ADA-compliant and wheelchair-friendly portable restrooms ($100-150/day or $300-500/month). ADA-compliant portable restrooms are not a common sight on construction projects, where public or general access is not anticipated. However, they do offer benefits for construction companies to consider. They are roomier than standard models and the extra space is a convenience for workers with bulky gear, tools, or clothing. Additionally, if you expect visitors – particularly parents with small children or anyone with a handicap that requires an appropriate unit – an ADA-compliant portable toilet may be necessary.
Get Quotes
Provide a few details about your portable restroom needs
We contact sellers
They compete for your business