Portable Restroom Suppliers
Choosing the right portable toilet manufacturer to supply and service your construction site is often a matter of what region you are in – prices and selection of portable restrooms, chemical toilets, and accessories is typically standardized across the industry. Here is what you can expect in the way of prices:
Standard portable toilet rental: $60-100/day or $150-300/month
Heavy-duty or deluxe portable toilet rental: $100-150/day or $300-500/month [optimized for ease of use]
Hi-rise porta john rental: $100/day or $200/month [for elevated sites]
Rolling portable restroom rental: $300/day or $800/month [road and highway or other highly mobile projects]; $500/day or $1000+/month [super-deluxe trailers]
(Note: Prices listed are a generalization, actual prices vary according to how many units rented, for exactly how long, and if volume of use requires extra servicing.)
Mr. John Company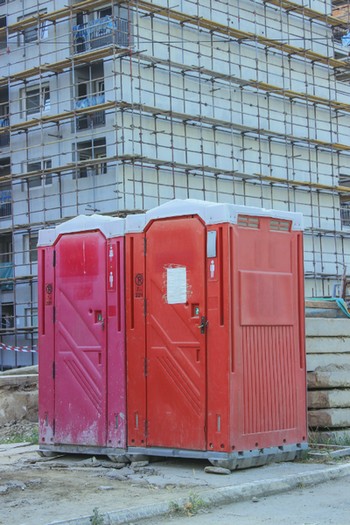 Mr. John Company has been supplying portable restrooms for over half a century to construction companies in New Jersey, Eastern Pennsylvania, Delaware, Long Island, and the New York City metro area, marking this family business as a pioneer in the industry.
Mr. John has chemical toilets and porta john rentals for a variety of construction applications, including units optimized for long term commercial and public works projects, as well as smaller residential projects. The company offers the following models:
Standard Mr. John
Maxim Flushing portable restroom [heavy-duty]
Mr. John Hi Riser
Mr. John Tag-A-Long Unit [rolling porta john]
A Clean Portoco
A Clean Portoco has been a supplier of portable toilet rentals throughout Texas and select locations nationwide. They have been in business for over two decades and are a trusted regional portable toilet manufacturer.
A Clean Portoco supplies portable toilet rentals extensively to the construction industry, including oil industry infrastructure projects. They offer the following model types:
Standard portable restroom
Heavy-duty portable restroom
Hi-rise porta john
Rolling singles & doubles
Anderson Rentals
Known as a leading portable toilet rental vendor throughout counties in East Coast and Central Florida. The company was founded in 1967 and remains a family business to this day, as well as a service innovator in the industry.
Anderson Rentals is heavily involved in renting portable restrooms to the construction industry, as well as other construction equipment, including shipping containers and roll-off solid waste disposal dumpsters. Their line of porta john rentals includes:
Portable toilets
Elevator portable toilet units [identical to hi-rise models]
Towable portable toilets [identical to rolling models]
National Construction Rentals
Today one of the largest portable toilet manufacturers and rental agencies, with 50+ locations serving 40 states. In operation since 1962, they are also one of the oldest vendors of porta john rentals.
National Construction Rentals combines widespread availability with a huge line of standard and specialized units. Their comprehensive selection includes:
Regular portable toilets
Deluxe and Deluxe Plus units [include sink and flushable action]
Hi-rise portable restrooms
Towable units
NSC Restrooms
A locally owned and operated portable chemical toilet rental company that operates throughout Massachusetts, New Hampshire, Connecticut, and Rhode Island. The company has been in business for over a quarter century and are a respected regional service leader.
NSC Restrooms is well-regarded in the construction industry for their extensive line of portable restrooms, including the following models:
Standard porta john
Deluxe portable toilet [extra room and comfort]
Mr. Insider unit [wheeled, indoor portable toilet for difficult locations]
Restroom trailers [large and multi-units, designed for mobility]
SoCal Industries
Provides portable toilet rental service throughout most of Southern California, including Los Angeles, Orange, Riverside, and San Bernardino counties. The company was founded in 2005 and has already established itself as a local industry leader.
SoCal portable toilets are a familiar sight at Southern California construction projects and the company has distinguished itself with a comprehensive line of units, including:
Standard portable restrooms
High-rise units
Trailer-mounted porta johns
United Site Services
The nation's largest vendor of porta john rentals, with more than 60 locations from coast-to-coast. The company also has over 1,000 pick-up & delivery vehicles, ensuring their service is fast and on-time.
United Site Services is very active in the construction industry. Their total inventory includes over 250,000 portable restrooms of various types, including:
Standard Porta Potty
Deluxe and Flushing Porta Potties
High-rise units
Get Quotes
Provide a few details about your portable restroom needs
We contact sellers
They compete for your business