Bobcat Skid Steer Loaders
Consumers from commercial construction company managers to homeowners with a small plot of land to toil around with have found a need for owning their own skid steer loaders. The equipment serves as a great way to move heavy objects and dirt around and attachments can be used to dig holes, trenches, and break up rocks.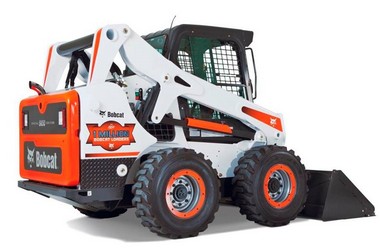 One of the industry leading manufacturers of skid steer loaders is Bobcat. The American based manufacturer offers an in-depth product line of construction and farming equipment and has been producing loaders since the M-200 line debuted in 1959. While some of the products that Bobcat offers (backhoes, excavators, track loaders) are designed more for heavy-duty use, it could be argued that the skid steer loader is the most popular because of its uses for home and commercial utilities.
In 2014 the 1,000,000th Bobcat loader will roll off the assembly line. In fact the first skid steer loaders ever produced can be traced back to what would eventually become the Bobcat company. As a result the company is consistently ahead of the industry in innovation and re-engineering that improves operator comfort, productivity efficiency, and durability. Today's bobcat skid steer specs give consumers options in regards to wheelbase size, lift paths, machine controls, and cab types.
Attachments
Bobcat skid steer attachments are what make the product such an enticing and versatile addition to a company or individual's fleet. The attachments switch in and out in seconds so a user can go from dirt displacement to raking to grading to grinding stumps to cutting trenches to spraying to mowing to mixing concrete all with the same base vehicle. Bobcat dealers thrive themselves on offering these attachments, making even a used bobcat skid steer the right piece of equipment for almost any job.
Finding the right skid steer model
For those looking to buy one of these highly useful pieces of equipment, it's important to remember that Bobcat skid steer prices vary on the size, features and specifications offered by each one. To better understand, take a comparative look at a low end, medium, and high end line of Bobcat's premiere product:
[table]Model, Lift path, Fuel type, Engine, Operating capacity, Operating weight, Tipping load, Lift heights, Speed S550, Radius, Diesel, 61HP, 1750 lbs, 6213 lbs, 3500 lbs, 149.1", 7.4 MPH S590, Vertical, Diesel, 86HP turbocharged, 2100 lbs, 6593 lbs, 4200 lbs, 153.5" , 7.4 MPH S770, Vertical, Diesel, 92HP turbocharged, 3350 lbs, 9175 lbs, 6700 lbs, 166.6" , 7.1 MPH [/table]
Pricing
As the skid steer line increases the machinery gets a little bigger, faster, more powerful and obviously more expensive. Much like a vehicle, Bobcat offers customers the ability to customize the skid steer adding such features as an adjustable suspension seat, in-cab stereo system, and hydraulic bucket positioning. All lines feature innovations only Bobcat can offer including the Bob-Tach™ quick-change attachment system, the largest drive change in the industry, and a tilt-up cab for easier repairs. For instance, a base model S130 with minimal hours on it might retail at a skid steer dealership for $15,000-$18,000 whereas a brand new S130 with all the bells and whistles could net around $30,000. Most bobcat skid steer owners will tell you spending $25,000 or more on a unit is a pretty significant investment but they realistically couldn't do their jobs without one.
Get Quotes
We contact sellers
They compete for your business