Skid Steer Tires Ensure Traction on Any Terrain
Skid steer tires are integral to the performance, safety, and cost-effectiveness of the machine. In fact, they're as important, if not more so, than the attachment you plan on using. This makes them a critical consideration when evaluating new or used skid steers.
In general there are two basic types: (1) pneumatic, hollow rubber tires filled with air or polyurethane foam, and (2) solid rubber tires. The type you select will largely be dictated by your work environment. But within those two types you also have additional options that can further boost safety and productivity.
Among some of the more popular configurations, you'll find these skid steer tires sizes:
[table]Type, Rim Diameter, Overall Diameter, Section Width, Tread Width, Tread Depth, Max Capacity*
Pneumatic, 10" x 16.5", 30", 11", 9.4", 35/32, "4,700 lbs"
Pneumatic, 14" x 17.5", 36", 14", 13", 37/32, "8,500 lbs"
Pneumatic, 15" x 19.5", 40", 15.5", 14.3", 50/32, "10,000 lbs"
Solid, 10" x 16.5", 30", -, 9.7", 62/32, "5,400 lbs"
Solid, 12" x 16.5", 33", -, 9.5", 76/32, "8,300 lbs"
Solid, 14" x 17.5", 35", -, 8.7", 97/32, "10,600 lbs"[/table]
*Approximations based on averages
Pneumatic skid steer tires
For most general-purpose uses, pneumatic, air-filled tires are the best choice for the combination of economy and comfort they provide. They run the gamut of applications, capable of performing equally well indoors and outdoors, and for heavy- or light-duty applications. The only caution would be for jobsites with sharp objects lying around (like recycling centers) that could pop a tire.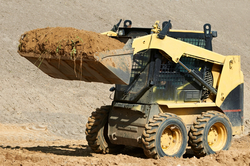 Foam-filled pneumatic tires won't go flat, but they're more expensive as a result, running as much as $400 each. They're also heavier than the air-filled variety, impacting the work environment and adding extra strain to the skid steer's transmission that can lead to an increase in the frequency of breakdowns.
Within this category, there are four unique options:
Hard surface – Designed for extended wear on tough surfaces like concrete and pavement, hard surface pneumatics are made from heavy-duty rubber compounds that extend the life of the treads. Quality tires often feature a steel-belted radial design with steel casing and two steel belts for additional puncture resistance.

Severe surface – Super deep treads (44/32-in as an example) allow severe surface pneumatics to perform well within extreme job sites and applications such as rentals, rock and gravel, demolition, mining, scrap yards, and glass factories. Often providing self-cleaning capabilities, the deep tread extends tire service life by a significant margin and further reduces the potential for cuts and punctures.

Heavy-duty – These premium tires have a rim or bead guard and extra thick sidewall to protect against damage and sidewall punctures. Great for rentals, general construction, snow removal, landscaping, and farming, these skid loader tires are made from a durable tread compound that extends their service life and enhances traction in wet work environments.

Standard-duty – Economically-priced yet no less durable, standard-duty skid steer tires are best for landscaping jobs, rentals, construction and other light-use duties. Often manufactured with a durable combination of natural and synthetic rubber, this type also usually includes a rim guard that safeguards both the tire and the wheel.
Solid skid steer tires
If your goal is to use the skid steer mostly just on paved roads or smooth concrete surfaces, or if your operating environment has lots of puncture hazards, like a recycling center or glass plant with shards of broken glass on the ground, solid rubber tires can be a good choice (and sometimes the only choice) for safety and performance.
Within this type, you also have four choices:
Twin flex – With an offset rim and a tread design that's engineered to bolster traction, twin flex tires are popular for their ability to reduce machine vibration and provide a smoother ride. They also reportedly enhance shock protection and maintain their shape under load to prevent cracking, extending the life of the tires.

Smooth flex – A hybrid of sorts, this type of solid tire benefits from the cushioning of a foam-filled pneumatic tire. It's a design that enhances operator comfort while the larger ground-contact area increases safety through added traction, also ensuring cost-efficiency by causing the tires to wear more evenly.

Smooth solid – Great for dry, hard surface applications that include warehouses, industrial plants, and waste management locations, smooth solid skid steer tires are crafted from cut-resistant rubber and are reportedly capable of carrying 40% more than pneumatic tires in some cases. Great for loading or digging, they're available with a narrow or wide base – with narrow intended for higher loading applications and wide offering better stability and flotation.

Conventional solid – Intended for wet interior surfaces like those often found in farming applications, food and beverage manufacturing, and waste management and recycling, conventional solid tires channel water away through an inverted tread design. This enables them to achieve the most traction possible. Similar to the smooth solid variety, they're available with a narrow or wide base – with narrow intended for higher loading applications and wide offering better stability and flotation.
For more information on skid steer loader tires and specs review our Purchasing Guide.
Get Quotes
We contact sellers
They compete for your business