Wheel Loader Attachments
Your wheel loader is only as versatile as the attachments you have, with the right accessories you can turn a simple machine into a tool that can perform any number of different construction jobs. From heavy duty rock buckets and rotating grapples, to a variety of booms, blades, and forks, wheel loader attachments save you time and money, and also make many jobs easier on your personnel and your equipment.
Here are the most common wheel loader attachments for construction applications: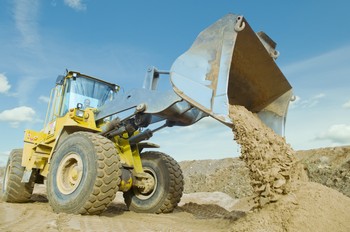 Wheel loader blades
Blade attachments are optimized to move dirt, gravel, loose rocks, snow, and debris. $4,000-10,000
Wheel loader booms
Boom attachments allow efficient loading and manipulation of tubes and pipe fittings. $3,000-5,000
Wheel loader buckets
Wheel loader bucket attachments are standard for most wheel loaders, however you may purchase buckets in a variety of sizes or configurations:
Compact buckets, 1.18-3.3 cubic yards capacity $2,000-4,000
Small buckets, up to 6.5 cubic yards capacity $5,000-10,000
Medium buckets, up to 16 cubic yards capacity $10,000-25,000
Large buckets, 16+ cubic yards capacity $25,000+
Wheel loader couplers
Coupler wheel loader attachments allow you to mount a variety of different attachments to your wheel loader, including attachments from a different manufacturer. Single-point, hydraulic, and 4-point couplers are available, based on your attachment requirements. $2,000-10,000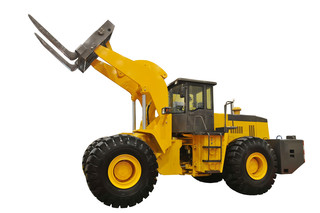 Wheel loader forks
Wheel loader fork attachments are available in several types, including:
Block handling forks $1,000-5,000
Hay forks $1,000-5,000
Hydraulic tilting forks $5,000+
Log & lumber forks $4,000-8,000
Pallet forks $1,000-5,000
Pipe handling forks $4,000-8,000
Sorting forks $$5,000+
Wheel loader grapples
Grapple attachments equip your wheel loader for efficient and fast clearing of land, trees, brush, and more. Rotating grapple attachments allow for improved performance in rough conditions.
Grapple sizes range from 2,500-8,000 lbs. and 100-140 inches wide. $2,000-20,000
64 inch wide Grapple – $5,000
86 inch wide Grapple - $12,000
114 inch wide Grapple – $19,000
Wheel loader hay handlers
Hay handling attachments are available in several types:
Big bale hay handlers $1,000-5,000
Manure and hay fork handlers $1,000-5,000
Hay bale squeezers $2,000-8,000
Bale spears $1,000-5,000
Wheel loader rakes
Raking tasks and construction site clearing can be performed much more efficiently with these wheel loader rake attachments:
Rake grapples $1,000-5,000
Rake buckets $2,000-8,000
Refuse grapple rakes $2,000-8,000
Wheel loader snow removers
Snow removal attachments are lighter than standard wheel loader buckets and attachments, perfect to remove snow and icy debris:
Heavy duty angle blades $2,000-8,000
Snow buckets $5,000+
Wheel loader hay squeezers
Wheel loader hay squeeze attachments improve productivity by reducing dropped bales and are preferred to spears or hay forks for operations with many smaller bales or very large, rectangular bales:
Recycling bale squeeze $5,000+
Hay squeeze $2,000-8,000
Wheel loader tree shears
Tree shear attachments can quickly remove trees and clear land and are better than grapples and rakes for parcels with larger diameter trees. $2,000-10,000
Get Quotes
We contact sellers
They compete for your business