Caterpillar Wheel Loaders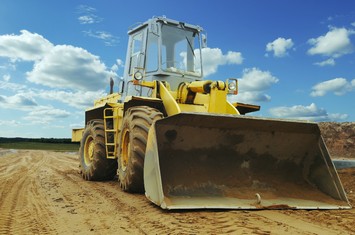 Caterpillar wheel loaders are some of the toughest, most durable wheel loaders available. Designed for moving material from one location to another, the Cat lineup of wheel loaders are produced in a variety of sizes including small, medium, large and block handler arrangements. Caterpillar has been producing wheel loaders since the 1960s, and after years of experience and trial, the current lineup of Caterpillar wheel loaders are powerful, productive, fuel efficient and environmentally friendly.
Wheel Loader Specifications
The table below details a range of specifications that covers each category of Caterpillar wheel loaders: small, medium, and large and block handler.
[table] Model, Maximum Travel Speed, Net Power, Maximum Bucket Capacity, Maximum Tipping Load, Reach, Fuel Tank Capacity, Price Small, 25 mph, 141-169 hp, 1.9-5.0 m3 (2.5-6.5 yd³) - 2.5-5.0 m3 (3.2-6.5 yd³), "16,352-20,997 lbs", 3.25-3.75 feet, 51.5 gallons, "$35,000 - $80,000" Medium, 21.0-25.3 mph, 211-392 hp, 2.5-9.2 m³ (3.25-12.0 yd³) - 4.2-12.2 m³ (5.25-16.0 yd3), "24,261-49,354 lbs", 2.4-6.5 feet, 83-116.5 gallons, "$50,000 - $500,000" Large, 16 mph, 409-1463 hp, 5.3-7.6 m³ (7-10 yd³) - 14-36 m³ (18.5-47 yd³)), "64,259-260,232 lbs", 5.9-23.6 feet, 159-1013 gallons, "$240,000 - $660,000" Block Handler, 19-26mph, 369-541 hp, 4.00 to 12.20 m³ (5.25 to 16.00 yd³)) - 6.4-7.6 m³ (8.3-10 yd³)), "45,148-77,488 lbs", 5.8-7 feet, 118.1-188.1 gallons, "$400,000 - $600,000" [/table]
Small Caterpillar wheel loaders
The Caterpillar small wheel loader lineup covers the models of 924K, 930K and the 938K. The small wheel loaders are designed to perform the same operations as larger wheel loaders, but in smaller and more confined locations. Small wheel loaders are able to maneuver between close obstacles and fit into locations that larger wheel loaders would be unable to travel through. They are also easier to transport and more fuel-efficient than larger wheel loaders.
Medium Caterpillar wheel loaders
The medium Caterpillar wheel loader lineup consists of K-Series and M-Series wheel loaders. This covers the 950K-980K models and the 966M-982M models. The medium wheel loaders are available with a cold start package that's comprised of a transmission pump bypass, fan pump bypass, ether aid and engine heater corded plug. This setup reduces the load on the engine and provides optimized starting power for extreme cold weather environments. Caterpillar offers a variety of monitoring programs to help project managers keep track of machine health and usage, as well as maintaining records for proper maintenance. The available monitoring programs include VisionLink, Product Link and S•O•SSM Services. The Cat C7.1 ACERT engine was designed to optimize power usage while conforming to EPA Tier IV standards. This allows the machine to operate with high performance and enhanced fuel efficiency, while reducing harmful emissions. The engine also features a Diesel Particulate Filter, Diesel Oxidation Catalyst and Cat Regeneration System.
Large Caterpillar wheel loaders
The lineup of Large Caterpillar wheel loaders are the most productive wheel loaders for their value. For instance, the 990H is the lowest cost per ton of any wheel loader in its class. The powerful Cat C27 ACERT engine conforms to EPA Tier III standards and features a Rimpull Control System and Impeller Clutch Torque Converter. The large wheel loaders incorporate several features including engine idle shutdown, torque converter lock-up clutch, and load-sense steering system for efficient fuel management and conservation. The spacious cabs of large wheel loaders are designed for maximum comfort. Interior of the cab reduces noise to approximately 70 decibels while the Cat monitoring system provides information on machine health and current usage.
Block handler arrangement
The Caterpillar lineup of block handlers features two of the toughest wheel loaders offered by Cat—the 980K and the 988K. Featuring the CAT C18 ACERT Engine which conforms to EPA Tier IV standards, these machines conserve fuel with integrated electronic engine controls and the Engine Idle Shutdown feature. The Impeller Clutch Torque Converter reduces tire wear and allows full-throttle shifts for quicker cycle times. Built for power and maximum productivity, the block handlers feature a lock-up clutch torque converter, load-sensing hydraulics and a transmission shift strategy.
Get Quotes
We contact sellers
They compete for your business