Used Wheel Loaders
Purchasing used equipment for construction, including used wheel loaders and used bobcats, makes financial sense for many companies: vehicles in good condition can be found at a discount, and long service lifetimes typically ensure a steady supply of spare parts and qualified technicians. Check each machine carefully and review all documentation from the seller, to ensure that the machine you need is the one you are getting.
Here are some tips to make your used equipment purchase a success.
Used wheel loader condition
A thorough inspection of a used bobcat or wheel loader is essential to determining its condition and whether it is a good value: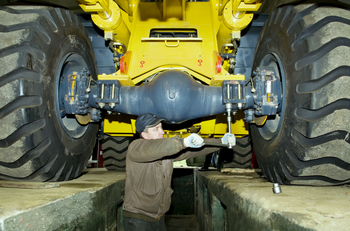 Note mileage and hours meter usage, and inspect both the odometer casing and the hours meter to ensure they are intact, sealed, function properly, and show no signs of tampering. Above 25,000 miles and/or 10,000 hours, you are looking at a machine that has seen some heavy use. Also beware huge discrepancies in the miles/hours ratio: if one vastly exceeds the other, the machine has likely been used improperly or the instruments have been tampered with.
Inspect the machine for any obvious damage, including frame and chassis for bends, cracks, damaged welds, and rust (check the paint job carefully, a new coat of paint may be used to conceal rust). Easily replaceable parts (belts, hoses, gaskets, panels) are typically not a problem (you may want to negotiate price down to reflect minor repairs), however larger problems of wear include damage to the wheels and chassis, blown hydraulics, malfunctioning or inoperable controls, and worn tires that require immediate replacement. Test mechanical systems for proper function.
If available, review the machine's usage logs and service record and find out how the machine was used and in what applications. Pay close attention to the service record and note any repeated breakdowns or mechanical problems, or unusually frequent need for repairs.
Make/model information and manufacturer support
Perhaps the most crucial factor in choosing a used wheel loader is knowing whether the model is currently supported by the manufacturer. You should have no problem with maintenance, service, accessories, and spare parts for a supported machine. Used equipment that is not supported may be a problem: you will have to look on the secondary market for spare parts and it could be more difficult to find technicians qualified to perform servicing and maintenance. After ten years that a model has been unsupported, it becomes increasingly difficult to find parts and qualified service technicians.
Check with the OEM to find out if the machine is still supported. For unsupported machines, check online or with local service providers to learn if parts and maintenance are readily available.
Used wheel loader tires
Tires are a significant expense on any construction machine. When purchasing a used wheel loader or used bobcat you want to make certain the tires are in good condition, otherwise you are faced with an imminent additional expense.
Check the current tires. Note current tire type and check machine manual to find out what types of tires it can mount. You may ask if additional types of tires are available, to increase the versatility of the machine.
Are the tires suitable for your jobs? Check compatibility for tread type. G2/L2 tread patterns are suitable for smoother surfaces and all-weather conditions. E3/L3 patterns are better for rockier conditions and hot weather. L5 tread patterns are optimized for extremely rough/broken ground and very heavy loads.
Examine for wear and tear. Look for obvious signs of wear, including cracking, flaking, and worn patches. Check machine service records to find out when the tires were mounted and the total mileage.
Used wheel loader prices. Exact prices are of course a function of machine model, accessories, age, condition, and the owner's need to sell, but common price ranges for the following popular used wheel loader makes are:
Bobcat $8,000-14,000
Caterpillar $50,000-1,000,000+
John Deere $25,000-150,000+
Hitachi $50,000-150,000+
JCB $30,000-50,000+
Volvo $20,000-250,000+
New Holland $25,000-75,000+
Final note: always use common sense and trust your judgment. If a deal sounds too good to be true, it probably is. Don't be afraid to walk away from a seller if you sense something is amiss. Hold out for a deal that you can trust.
Get Quotes
We contact sellers
They compete for your business