Generators provide power when and where it is needed. Generators allow businesses to stay open during power outages, in addition to ensuring hospitals are ready for emergency situations at any time. In less dire situations, such as for industrial and construction environments, generators allow workers to perform on remote job sites, expanding infrastructure and building new facilities.
In this article, we'll compare top brands such as Honeywell, Coleman and Kohler for the following generator types:
Metrics to consider
When looking to purchase a generator, there are many features and characteristics to consider. A generator can be small enough to power appliances or large enough to provide electricity to an entire facility. Here are a few metrics to consider when comparing generators:
Fuel type. Generators are powered by electricity, natural gas, propane or LP and diesel fuel. Each fuel type has an impact on the horsepower, wattage and amps produced by the generator. For instance, a portable diesel generator can be used anywhere and provides high horsepower outputs, making it ideal for construction sites, while electric generators tend to produce less wattage and are used in recreational settings.
Generator sizing. The size of a generator refers to its output, not necessarily its physical dimensions. This can be horsepower, volts or wattage. Generator sizing can vary from 500 watts to 50 kW. The higher the wattage, the more devices or facilities it can power. Therefore, knowing how much wattage you may need at one time is a critical factor in generator selection.
Display options. Some makes and models of generators offer LCD or LED status indicator lights. These lights alert users to fuel level and maintenance reminders such as an oil change or motor check. Such display options also make the generator safer to use at night, illuminating the operations switches.
Safety switches. Safety switches are used on standby generators. Standby generators are installed by hooking them up to the main power source and then to the item requiring power. When the power goes out, the generator transfer switch automatically turns the generator on and when the power is restored, it shuts off the generator to avoid overloading the circuits.
Pricing. The price of a generator ranges from $800 to $2,000 for portable electric generators and $1,500 to $25,000 for portable generators. Large standby units used to power big buildings and medical facilities can cost up to $125,000 per unit and may require more than one unit.
Model comparisons
The two biggest determining factors in generator selection are portable or standby and the number of watts necessary to get the job done. The following charts can help you figure out what type and size you need.
Standby Generators
A standby generator (AKA emergency generator) is permanently installed, adjacent to a facility, such as a home, business, or medical center. Once installed, it is connected to existing utility services. Electric standby generators use that electricity to charge batteries in the generator. In the event of a power outage, the batteries power the generator.
Other types of standby generators are motor powered by either natural gas, LP or propane or diesel fuel. In the case of gas or fuel, the generator can be connected directly to the main fuel supply for the building. If portable tanks are used, they should be routinely checked and filled.
| Standby Generators | Generac | Honeywell | Cummins | Coleman | Kohler |
| --- | --- | --- | --- | --- | --- |
| Model | PowerPact 6561 | HT150 | C45 N6H | 6552 | 14RESA |
| Fuel Type | LP or Natural Gas | LP or Natural Gas | Natural Gas or Propane | LP or Natural Gas | LP or Natural Gas |
| Size | 7 kW | 150 kW | 50 kW | 22 kW | 14 kW |
| Display Options | LED | LCD | LCD, LED | LED | LCD |
| Safety Switches | Not included | Included | Included | Not included | Not included |
| Uses | Home | Business | Business, Home | Business, Home | Business |
| Pricing | $1,800 | $125,000 | $19,000 | $4,500 | $3,500 |
Portable Generators
Portable generators come in electric or motor powered versions. They can be used anywhere as they are not installed to an existing power source. They can, however, be used as a backup generator as well. When used as backup generators, they require continuous monitoring so they can be shut off when power is restored. If left running, it can cause damage by overloading the circuitry in both the generator and the building.
| Portable Generators | Generac | Honeywell | Cummins | Coleman | Kohler |
| --- | --- | --- | --- | --- | --- |
| Model | XP10000E | 7500E | Onan 2400 | PM0126000 | PRO5.2E |
| Fuel Type | Diesel | Diesel | Gasoline | Gasoline | Gasoline |
| Size | 10 kW | 7.5 kW | 2 kW | 6 kW | 5.2 kW |
| Display Options | LED | LCD | N/A | LED | LCD |
| Safety Switches | Low oil pressure shutdown | None | None | None | GCI Outlet |
| Uses | Industrial, Home | Industrial, Recreational | Recreational | Industrial, Recreational, Home | Industrial, Recreational |
| Pricing | $3,100 | $4,200 | $1,800 | $5,100 | $1,400 |
Choosing a brand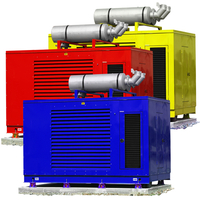 One of the most important parts of choosing a generator, is the dealer you work with. This requires careful research. Below, we outline what to research when comparing brands.
Reviews. When you are looking for a reputable dealer to work with, it is essential to research reviews on the products, manufacturers or providers you're considering. Others in your industry can provide valuable insight through their specific feedback.
Awards and recognition. Another good source of information is any award or recognition that the manufacturer may have received within the industry. Those are voted on by peers and organizations that use the products. This means that experts in the industry think highly of their quality and performance.
Help and service support. Most manufacturers offer a two to five year complete warranty on new machines. Some dealers also offer limited warranties on used generators as well. Be sure to ask about training programs, either online or in person. Training and proper upkeep will help you and your staff get the most out of the generator.
| Brand | Generac | Honeywell | Cummins | Coleman | Kohler |
| --- | --- | --- | --- | --- | --- |
| BBB Rating | A++ | A+ | A | A+ | A |
| Most Recent Award | 2010 Plant Engineering Product of the Year | 2008 Consumer Digest Best Buy Award | 2014 Huawei Global Excellent Partner | N/A | 2010 Most Valuable Product by Building Products Magazine |
| Help & Support | 24 hour call center; online training | 24 hour call center; online training | 24 hour call center; online training | 24 hour call center; online training | 24 hour call center; online training |
Get Quotes
We contact sellers
They compete for your business