Hyster Forklifts Blend Ergonomic Comfort with Performance
Quickly approaching their centennial, Hyster has been manufacturing forklifts and related equipment since the 1920s. Unique in the marketplace for the catchy names once emblazoned on their products – including "Karry Krane," "Handy Andy," and "Jumbo" – Hyster now produces more than 130 different lift trucks configured for gasoline, LPG, diesel, or electric power. Their rated capacities extend from 2,000 to 115,000 lbs.
This expansive product line has been responsible for $1.4 billion in revenue within the first six months of 2014 alone. With a global workforce and a presence in more than 130 countries throughout the world, Hyster products are the result of customer-centric designs, industrial-strength components, and a commitment to quality testing and manufacturing processes. This combination has produced a lightweight frame and an engine that results in a fuel savings of up to 12% on some machines, according to data supplied by the manufacturer.
That's a welcome savings, especially with some of the upfront costs:
[table]Type, Model #, Estimated Costs Very Narrow Aisle Forklift, "V30ZMU, V35ZMU", "$7,000 - $13,000" "Internal Combustion Engine, Pneumatic Tire", "H30-35FT, H40FTS", "$7,000 - $14,900" "Internal Combustion Engine, Cushion Tire", "S135-155FT, S50CT, S30-35FT, S40FTS", "$8,900 - $12,800" High Capacity Forklift Trucks, "H190-280HD2, H800-1050HD/S", "$16,000 - $305,000" Container Handlers, "H360HD2-EC4, RS45-46 Series", "$39,000 - $295,000" Order Pickers, "R30XMS3, R30XM3, R30XMA3, R30XMF3", "$6,000 - $16,000" Pallet Stackers, "W25-30ZA2-W40ZA, W20-W30ZR", "$8,000" 3-Wheel Electric Trucks, "A25-30XNT, J30-40XNT", "$11,900 - $13,900"[/table]
Compare more Hyster forklift specs here.
Here's a quick summary of their major types of forklifts and some of the most common models within each line.
Very Narrow Aisle Forklift
Offering a max travel speed of 6.5 mph and supporting loads of up to 3,500 lbs, the V30ZMU, V35ZMU, and other models in this line have been designed for indoor use at a warehouse facility or distribution center. Engineered for tight corners and narrow aisles, Hyster's V30-35ZMU series is customizable with up to five chassis choices and three operator compartment configurations. Plus, depending on your power requirements, they also offer 48 and 72-volt systems.
Expect to pay: $7,000 - $13,000
Internal Combustion Engine Pneumatic Tire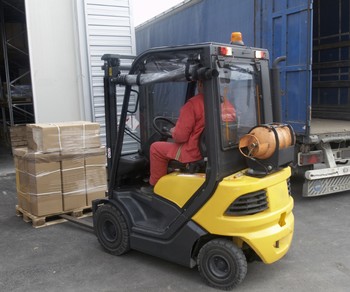 Hyster's IC pneumatic tire lifts, like the H30-35FT and H40FTS, provide between 3,000 and 19,000 lbs of capacity. Created for indoor or outdoor use, they feature leak-free O-ring face seals to minimize breakdowns and lost time. They also include an in-tank filter to boost hydraulic fluid filtration by 60% for particles down to 10 microns. This innovation has been shown to further extend the life of machine components while producing cleaner operation. Also providing an example of their focus on ergonomics, lifts in this series are available with an adjustable steer column and four unique seats to choose from.
Expect to pay: $7,000 - $14,900
Internal Combustion Engine Cushion Tire
Extending in weight capacity from 3,000 to 15,000 lbs, models like the S135-155FT, S50CT, S30-35FT, and S40FTS are built for easy access. They feature a one-piece steel floor plate that enables maintenance personnel to quickly service the machine. They're also designed with a molded rubber mat that helps reduce noise and vibration, enhancing operator comfort. Plus, this series incorporates Hyster's patented DuraMatch transmission. It elevates responsiveness and control through enhancements that include an "Auto Deceleration System" and controlled power reversals that help the operator move loads more efficiently and with less effort.
Expect to pay: $8,900 - $12,800
High Capacity Forklift Trucks
This is the top of the line in terms of lifting power, offering between 19,000 and 105,000 lbs of capacity. Models like the H190-280HD2 and H800-1050HD/S are powered by a Cummins QSB6.7 diesel engine that also includes a turbo and intercooler. Conforming to EPA Tier III emissions standards, these lifts are designed with four separate cooling cores: engine, transmission, charge air cooler, and hydraulic system – each of which can be swapped out individually for cost-effective repair. Added safety innovations within this line include shutdown systems that keep tabs on low/high oil temperatures for both the engine and transmission.
Expect to pay: $16,000 - $305,000
Container Handlers
Comparable to the high capacity lifts, Hyster also produces forklifts that are specialized for moving shipping containers. With a weight capacity that ranges between 15,400 and 101,000 lbs, the H360HD2-EC4, RS45-46 Series, and similar models deliver reliability for some of the toughest jobs imaginable. Powered by a 155-hp Cummins engine (on select models), these container handlers come standard with hydrostatic load sense steering, a unique rear light cluster for brakes, back-up, and turn signals, a 3-speed powershift transmission, and wet disk brakes. Plus, the gas-spring gull-wing doors and manual tilting cab provide instant access to more than 95% of the items requiring service.
Expect to pay: $39,000 - $295,000
Order Pickers
Ideal for warehouses and stock rooms, Hyster's order pickers provide 1,500 to 3000 lbs of lifting capacity in a small but robust line that includes the R30XMS3, R30XM3, R30XMA3, and R30XMF3. Created for environments with narrow aisles and tight spaces, these order pickers are designed with a multifunction control handle that's completely adjustable, enabling the operator to select between three positions for ultimate comfort. It also features a pallet clamp that grabs onto a load to ensure safety and speed.
Expect to pay: $6,000 - $16,000
Pallet Stackers
Also known as "walkies," pallet stackers are ideal for large industrial operations that don't want to tie up a costlier forklift (and the driver required for its operation). Essentially a large pallet jack, capable of lifting loads higher off the ground, it's capable of between 2,000 and 4,000 lbs of capacity. And models like the W25-30ZA2-W40ZA and W20-W30ZR are engineered for comfort and safety. They feature ergonomic fingertip controls that direct the proportional lift/lower, travel speed and direction, and sideshift functions. The control handle on this electric pallet jack also includes a variety of performance modes as well as a "creep" or "turtle" speed option that allows the operator to slowly position the load in tight or precarious places.
3-Wheel Electric Trucks
Offering 2,500 to 4,000 lbs of lifting power on industrial grade forklift batteries, Hyster's 3-wheel electric forklifts – like the A25-30XNT and J30-40XNT – provide smooth changes in travel direction through AC technology that refines the precision of speed control. This not only elevates safety and comfort, it's also been shown to boost operator productivity. The 3-wheel design was created for areas with tight corners or similar restricted spaces and enables you to personally tailor the lift's hydraulic and traction performance to your specific job.
Expect to pay: $11,900 - $13,900
Get Quotes
We contact sellers
They compete for your business