Types of Forklifts, How They're Used, and How They Can Benefit You
The selection of internal combustion and electric forklifts is almost innumerable in today's marketplace. But very few models may actually be suited to your specific application. Each lift is designed for specific functions, making them more efficient and cost-effective within certain industries.
One thing's for certain: whether you buy new or used, a forklift represents a major investment. Consider the forklift costs below:
[table]Type, New, Used,
Internal Combustion Forklift Trucks (IC), "$20,000 - $100,000", "$7,100 - $40,000"
Electric Forklift Trucks, "$20,000 - $50,000", "$8,900 - $24,000"
Reach Trucks, "$19,000 - $30,000", "$1,500 - $8,000"
Pallet Jacks (Manual), "$200 - $700", "$80 - $250"
Electric Pallet Jacks, "$2,800 - $11,000", "$1,900 - $6,000"
Order Pickers, "$5,000 - $10,000", "$3,000 - $6,000"
Narrow Aisle / Very Narrow Aisle Forklifts, "$12,000 - $35,000", "$7,000 - $13,000"[/table]
With these prices in mind, it's critical to find a forklift that offers the best combination of technology and features. So here's how the major categories compare.
Standard forklift trucks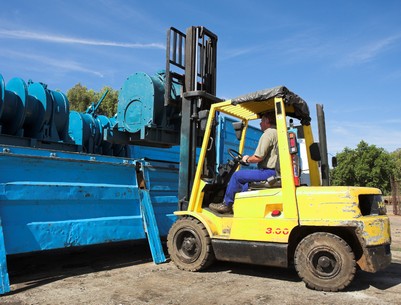 Available in two main configurations, internal combustion (IC) and electric, standard forklifts represent the greatest potential for weight capacity – with the deck stacked heavily in favor of IC lifts. Considered the most common type of forklift truck overall, counterbalanced models are designed with a weight that's built into the rear of the truck's body. This counterbalance (whether it's an actual weight or the forklift batteries found in an electric lift) is what offsets the load in front, accommodating weights from 3,000 to 120,000 lbs depending on the model selected.
Most standard forklifts reach heights between 10 to 15 feet, but some can lift as high as 36 feet. Sit-down models are also available in a couple different configurations: 4-wheel and 3-wheel. The 4-wheel models provide the greatest weight capacities but the 3-wheeled variety is known for its enhanced maneuverability, especially in tight areas or around corners.
Common uses for these types of forklifts run the gamut, including agriculture, oil refineries, construction, manufacturing, paper mills, and pipe yards. But within these applications, the primary difference between the two often comes into play. IC models run on a variety of fuels including gasoline, diesel fuel, liquid propane gas (LPG), or compressed natural gas (CNG). Gasoline and diesel models cannot be used indoors, requiring any forklift needs to be filled by either a LPG-powered machine or (ideally) an electric model within an enclosed environment.
Reach trucks
The most maneuverable of the bunch, and also one of the most fun to operate, reach trucks are designed for warehouse applications and other locations that routinely stack palletized goods in racking or other storage areas. Battery-powered and designed with little ground clearance, they are relegated largely to indoor use or a smoothly-paved loading pad or dock.
As the name implies, reach trucks "reach" into racking with an extendable carriage and forks to grab pallets that range from 2,500 to 5,500 lbs. Single-reach models extend the length of one pallet and double-reach trucks extend the length of two. Comparable to the height capacity of a standard forklift, the outrigger legs on the front of the machine can support the load up to more than 30 feet.
A reach is designed with two unique operator platforms. The first includes a tilting cab function that leans the operator into position during operation. The other makes use of a see-through overhead guard, typically constructed from reinforced steel bars for safety, which provides a clear view of the forks and load overhead.
Motorized pallet trucks
Sometimes known as "walkies," an electric pallet jack enables an individual to move an entire pallet of goods from one location to another. Battery-powered, they have an integral charger that enables them to be plugged straight into the mains without requiring a stand-alone charging unit.
Unlike the manual version which requires the user to pump the handle to elevate the load and then push or pull it into position, motorized pallet jacks are operated by fingertip controls on the handle that allow for the push-button operation of:
Proportional lift/lower
Travel speed and direction
Side-shift functions
Speed (Rabbit/Turtle)
Horn
A Crown pallet jack is among the most popular in this category – a category which often allows the user to choose from a variety of enhanced versions that include: standard or Euro pallet compliance, low profile, foldable, all-terrain, wide or narrow fork spread, and long or short forks. For this reason, they are as common, if not more so, in businesses and operations of every size and type.
Order pickers
Order pickers are essentially a platform that can be raised or lowered to reach stored items in racking or on shelves between 8 and 11 feet in the air. They come in two different types, all electronic or electronic lift only. Similar to a reach truck, they are used almost exclusively indoors.
Supporting weight capacities of up to 3,500 lbs (but most commonly between 400 and 700 lbs), order pickers typically feature a 7-3/4-inch platform height to facilitate quick access while reducing operator fatigue. The operator compartment itself measure 39 inches wide with a built-in tether that's often anchored to the top grate. For efficiency and additional comfort, it also includes an amenities tray as well as numerous storage compartments. They can also be found in narrow aisle versions, with 23-inch and 25-inch models popular for their easy maneuverability.
Order pickers are battery powered and therefore designed just for indoor use. They often come with a battery and built-in charger.
Narrow aisle forklifts (NA) and very narrow aisle (VNA) trucks / swing mast and turret trucks
Essentially two branches of the same tree, narrow aisle and very narrow aisle forklifts are further enhanced through swing mast and turret truck operation. Similar to standard counterbalanced forklifts, NA and VNA lifts can support from 3,000 to 12,000 lbs and are available in a range of three or four-stage masts that offer lift heights up to 31 feet, as well as multiple chassis designs.
Available in electric and LPG varieties, turret trucks reportedly increase storage space up to 31% by enabling optimal space efficiency between stacks. A lot of this advantage comes with height, as certain models are capable of lifting an operator more than 56 feet in the air. They further boost efficiency through powerful travel and lift speeds. In fact, newer models are capable of raising or lowering an empty platform 120 feet per minute. Some can even complete a full 180-degree pivot in about 6 seconds.
Similar to a reach truck, the electric variety is only for indoor use. Capable of max speeds less than 7 mph, they're powered by a 48 or 72-volt system and ideally suited to applications within distribution centers and high volume stacking and storing.
Get Quotes
We contact sellers
They compete for your business