Storage Container Add-ons
Storage containers may be customized for additional uses or optimized for function by selecting any of a variety of add-ons and features. Storage container add-ons will also add to the price, but expense can be reduced in certain instances by purchasing a used storage container with after-market add-ons.
Here is a selection of some of the most popular storage container add-ons:
Storage container ramps
This storage container add-on allows for faster, more efficient loading and unloading of your storage containers. Polyethylene storage container ramps, for use with dollies and small palette loaders, are typically 36" x 31", lightweight, and highly portable. These ramps can handle up to 1,000 pounds and retail around $100.
Heavier forklift ramps are also available: these come in sets of two small, wheel-size ramps made from ¼" diamond plate steel. Despite being designed for heavy loads, they are lightweight and portable by hand. Forklift ramps can accommodate up to 10,000 pounds and are available for $300-500.
Heavier ramps are also available, for roll-on/roll-off loading, as are specialized and purpose-built ramps for unique applications.
Light storage container ramp $100
Heavy storage container ramp $300-500+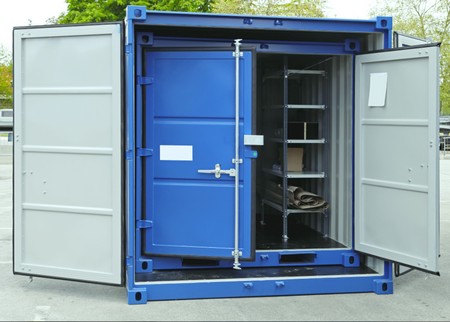 Storage container shelving
Storage container shelving allows more efficient packing and cargo distribution, and may provide better safety and protection for delicate items. Storage container shelving is available in a variety of styles and is customizable to your specific needs. Cost depends on the amount of shelving needed. Small systems, featuring wooden shelves with steel bracketing and supports, begin at $50. Sturdier and more extensive storage container shelving typically starts at $100.
Bin rack, wheeled, and portable storage container shelving systems are also available, beginning in cost at around $150.
Storage container shelving $50-150/each
Storage container awnings
This storage container add-on creates a shaded area next to your container. This is especially helpful for storage containers being used as guard sheds, kiosks, and vending areas. A storage container awning can also be deployed between adjacent containers to create an ad hoc open garage, parking area, workshop, etc. Awnings for smaller containers begin around $100, larger ones begin around $1,000. Retractable and motorized awnings are also available for $1,500 and up.
Small storage container awning $100
Larger or accessorized storage container awning $1,000+
Storage container steps
Storage container steps allow easier and more convenient access to your container, particularly if it is raised, set upon a slab or foundation, etc. Most storage container step systems are portable, some are designed as permanent add-ons. Pricing is determined by container size, style, and load, but typically begin under $100 and can go up to $1000 for large steps with a full install.
Storage container steps $100+
Storage container lock boxes
Storage container lock boxes allow secure storage of valuable items within your container. Small lock boxes of standard design are about $100, larger models with additional features (extra security, fireproof, etc.) cost more.
Storage container lock box $100+
Storage container custom paint job
A new coat of paint for your storage container. A new coating of weather-resistant paint can add to the service lifetime of your storage container, or you may want a paint job that shows your logo, business colors, or a custom design. Price depends on storage container size and how elaborate your requirements are.
Storage container paint job $250-1,000+
Extra or custom doors for your storage container
Door can be selected for a variety of functions, including:
Dual entry doors offer faster and more convenient loading and unloading $250-750
Roll up doors reduce space needed $250-750
Standard swing door is the most common type [price included]
Walk-in door offers efficiency benefits and multi-purpose functionality $250-750
Storage container door locks
This add-on helps secure your contents against theft or damage. Storage container door locks are available in a variety of models, including keyed, combination, electronic keypad, extra secure, and more, with price depending on exact specifications.
Storage container door locks $250+
Get Quotes
We contact sellers
They compete for your business