Electric Air Compressors: Stationary and Portable Options
Among other industries, electric air compressors are used to keep construction companies, auto mechanics, and auto body technicians working throughout the day. Whether they are stationary units, or portable, these tools are required and needed to complete some of the most basic tasks in these trades. These air compressors can either be considered turbo, reciprocating, or rotary screw driven units.
There are two major types of compressors that lead to questions when purchasing a new unit. You can select either a stationary or portable unit, and depending on what field of work you are in, will alter which selection you make. Anyone that uses an air compressor has the same goal in mind, but the different types of compressors will make some jobs easier than others, especially in comparison to the use of gas.
Where stationary air compressors are best
Stationary air compressors come in all shapes and sizes. The ideal model for your company depends on the size, horsepower, wattage, and features you want. For instance, manufacturing companies would need more power to operate their machinery and various accessories including air hoses.
[table]Stationary Model Specs, Size, 60 to 200 Gallons or Tank-less Horsepower, 3 to 50 Wattage, 230 Volt AC Power Needed, 1 Phase to 3 Phase Price, "From $500 to $28,000"[/table]
One thing that needs to be understood about your air compressors is the amount of power needed to run them. When your air compressor is a 3 phrase unit, it means that it provides three alternating currents. These currents will remain constant, which helps it to run efficiently.
When a portable air compressor makes more sense
While the idea of having a stationary air compressor seems like a positive one for many companies, the need of a small construction company would not fall into this category. It would instead fall into the category of a portable electric air compressor. These models come in all shapes and sizes and all have their own appropriate usage. Among the different type of models you can purchase would be horizontal, vertical, oil free, and oil lubed. The most popular and common types of portable air compressors you may see would include pancake, wheelbarrow, and small.
[table]Portable Model Specs,
Size, "2 to 30 Gallons, or Tank-less"
Horsepower, Less than 1 to 13
Power Needed, 12-Volt Button Start to 120-Volt
Price, "$150 to $2,500"[/table]
These are some of the models you would see the contractor renovating your basement bring into your home. For the most part, these models range in horsepower from below one to 13 or higher. These units don't provide nearly the same amount of power as stationary and their tanks are also smaller, usually ranging between two and 30 gallons.
When would electric air compressors be used instead of gas
Electric air compressors are the most popular type on the market today, but there are many customers that purchase truck mounted air compressors that run off an engine and gas. For outdoor use where you need a little more power and tank space tank than you would with a portable unit, these are ideal. Of course, on the other side of this fact is that you can't operate gas products inside the home.
Electric air compressors would also be used in situations where the gas ignition could pose danger to your employees, building, and entire business, because of other dangerous chemicals being used. This is a potentially fatal situation, so the need to for a portable unit indoors is essential.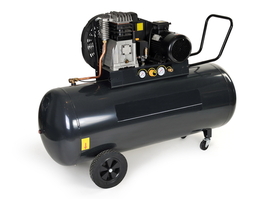 Among the industries where you will want to use electric air compressors instead of gas include areas where gas fumes would be unacceptable. This would include auto mechanic shops, gas stations, and other businesses where fires can be started quickly.
Which companies provide best products for price
The market for air compressors – stationary and portable – is huge. There are countless companies that produce these products for use by contractors, machine shops, auto shops, and home use. Some of these products are crafted and built better than others, but there are many quality products from the top manufacturers in the world.
Among the best at producing these products include the usual names in contracting, Ingersoll Rand, Kaser, Quincy, Cambell Hausfield, Atlas Copco, and Sullair. Other companies that are known for their products in the air compressor business include Rolair, Speedway, Iron Horse, and Eagle. These companies all have their models that are more cost effective, but for those looking for the most power and the largest tanks, money won't be a problem.
Get Quotes
We contact sellers
They compete for your business