Genie Provides Compact and High Reach Telehandlers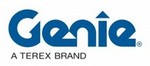 The name "Terex" is derived from the combination of two Latin words: "terra," which means "earth," and "rex, which means "king." Terex was founded in 1933 as Euclid, but later changed the name to Terex in 1970. Terex has built their reputation on building high-quality machinery and industrial products that provide superior productivity and high return on investment (ROI).
While Terex has enjoyed success throughout the years, the company did especially well during the 1970s with several notable accomplishments including the creation of the 1Z Trac-Truk (the world's first off-road hauler), the TC-12 (the world's first twin-powered dozer), and the Terex 33-19 Titan (the world's largest truck).
The lineup of Terex products includes the Genie brand of compact and high-reach telehandlers. Similar to the typical warehouse forklift, telehandlers have extended-reach options and rough terrain navigability which makes them the favorable choice for new construction sites and remodeling projects in locations where a typical forklift is unable to accomplish the necessary tasks.
Genie telehandler specifications
The chart below includes specifications for the compact telehandler and all three high reach telehandlers. These specs highlight comparisons of operating weight, maximum forward reach, lift capacity, lifting height and price between compact and high reach telehandlers. Prices may vary based on the selection of attachments and optional features.
[table] Model, Max Forward Reach, Lifting Height , Lift Capacity , Operating Weight, Price Compact, , , , , GTH-5519, 11 feet, 19 feet, "5,500 lbs", "10,360 lbs", "$60,000" High Reach, , , , , GTH-944 , 27 feet, 44 feet, "8,000 lbs", "22,500 lbs", "$80,000" GTH-1056, 42 feet, 56 feet 10 inches, "10,000 lbs", "30,000 lbs", "$150,000" GTH-1544, 27 feet, 44 feet, "15,000 lbs", "33,686 lbs", "$190,000" [/table]
Compact telehandlers
The Terex lineup of Genie compact telehandlers actually includes only one machine, the GTH-5519 model. This compact telehandler is small in width and height which enables the machine to easily navigate and operate in confined spaces and between tight obstacles. Because of the small stature, it is also easy to transport from one location to another.
Attachments are interchangeable, and the quick-change couplers allow attachments to quickly and easily be attached or removed directly on the jobsite.
The Genie compact telehandler is useful in a variety of industries including farming, construction, landscape and masonry. The machine features three steering modes which include coordinated, crab steer and front wheel modes. Another notable feature is that daily inspections are able to be performed without the use of any tools, which reduces time and costs.
High reach telehandlers
The Terex lineup of Genie high reach telehandlers (also known as telescopic forklifts) includes three models: GTH-944, GTH-1056 and GTH-1544. These models are similar to the compact telehandlers, but they are larger, have extended reach capability and can handle larger loads than their smaller counterpart. Terex high reach telehandlers are typically used in the landscaping, construction and agriculture industries.
High reach telehandlers provide a variety of useful functions including loading and unloading materials picking up, moving and placing materials, cleaning up the jobsite and more. These telescopic telehandlers have the ability to operate in high areas or other locations that would be unreachable to standard forklifts.
The turbo-charged diesel engines are compliant with the EPS Tier IV regulations for emissions. They are highly-productive due to their power and handling—horsepower ranges from 99-164 HP and performance is at a maximum, even in extreme conditions with rough terrain. The telehandlers can be switched from 2WD to 4WD to accommodate the terrain.
Get Quotes
We contact sellers
They compete for your business