Buying a Used Telehandler
No matter what type of construction machine you are interested in purchasing used, make certain you perform a thorough inspection of the equipment prior to closing the sale. This includes used rough terrain forklifts, telehandlers, telehandler forks, telescopic forklifts, and rotating telehandlers. Here are the major points you want to focus on in your inspection:
Mechanical system inspection
Inspecting the mechanical system of a used telehandler is crucial prior to purchase. Defects in the mechanical system are typically not detectable with a cursory inspection and these are the kinds of faults that cost the most money to repair. Mechanical systems on a used rough terrain forklift include the engine, drivetrain, steering, brakes, and hydraulics.
Be sure to do the following:
Examine the engine for leaks, paying particularly close attention to the condition of valves, gaskets, and seals. Check the ground beneath the machine for evidence of fluid leaks.
Inspect engine, braking, and steering fluids to determine if they are in good condition, or require immediate replacement.
Examine steering and braking systems, including service and parking brakes. Steering should be smooth and responsive, brakes should operate quickly and effectively.
Inspect the hydraulic system for leaks and note any unusual noises while the machine is in operation.
Record usage on the hours meter and inspect the meter itself: the device should be sealed properly, show no signs of tampering, and function appropriately.
Structural system inspection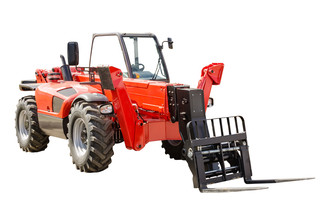 Damage to a used rough terrain forklift's basic structural components may not always be obvious, which necessitates a thorough inspection. Close inspection includes testing moving parts to ensure they work as advertised.
Inspection tips:
Inspect boom, mast, frame, and chassis for cracks, faulty welds, and rust. Also check the boom and mast for bent metal and test for proper function.
Examine the forks or any other attachments to ensure they are of appropriate size for the machine. Mismatched forks or too-small attachments can be a common problem.
General appearance inspection
General appearance includes both cosmetic damage and any apparent damage with the potential to impact performance and value. Be sure to inspect the following:
Cab seating, leather, fabric, and rubber surfaces for damage.
Glass and/or plastic partitions for cracks and breakage.
Tires for worn tread, punctures, and damaged surfaces. Make certain the tires are the proper fit for the machine, and are from a trusted manufacturer.
Maintenance review
Used telehandlers, rotating telehandlers, telehandler forks, telescopic forklifts, and rough terrain forklifts should have extensive and complete maintenance records. Be certain you review:
All documentation regarding maintenance, repairs, and servicing.
Inspect the time between service dates to ensure maintenance was performed regularly.
Model information and manufacturer support
Your used telehandler is only as good as the support available should something go wrong. Models that are out of production may be difficult to service in the event of a breakdown. You should check with the manufacturer for any faults subject to recall.
Also, make certain the machine is currently supported by the manufacturer for supplies, accessories, and spare parts, or check that those items are readily available in the secondary market. This is particularly true of older machines that have been replaced subsequently by newer models: differences in parts can lead to acute shortages for older machines, and drastic upgrades mean that it may be difficult to find service technicians qualified in older technology. Review newer models specifications before purchasing an older used model.
A good dealer will allow a thorough machine inspection, provide you with all documentation required, and assist you in the review of this checklist. Working through a trusted used telehandler dealer will save you time and money, helping to ensure your construction equipment investment is one that lasts.
Get Quotes
We contact sellers
They compete for your business