Articulating Boom Lifts Reach Dizzying Heights
Articulating boom lifts are a branch of the aerial lift family with long, extendable arms that reach up to 140 feet. It's also common for them to offer a 360-degree to 400-degree continuous or non-continuous rotation with zero tail swing. They provide safe work access to the side of a building or aircraft, the top of a tree, and the interior peak of a cathedral, among countless other unreachable places.
Often simply referred to as articulating booms, lifts within this category are available in two different types: standard articulating lifts, featuring two or more hinged boom sections, and the telescopic variety.
Articulating boom lifts are nicknamed "knuckle booms," for their ability to position an operator over and around obstacles. This practically limitless range of maneuverability makes them popular among utilities companies where service technicians have to navigate power lines, trees, and other obstacles.
Telescopic booms, also known as telescopic handlers or telehandlers, provide the greatest horizontal reach of any other aerial lift. But, similar to a telescope, the boom itself is usually designed without the hinge points found on an articulating model. This makes the articulating variety better suited to applications that require a combination of reach and awkward positioning. But for heights, nothing beats a telescopic boom.
Boom lifts are further classified by power supply, with electric articulating boom lifts necessary for indoor use and the diesel-powered models ideal for heavy-duty construction applications and similar outdoor jobs. Offering a variety of vertical and horizontal reach capabilities, popular models include:
[table]
Power Type, Work Height, Horizontal Outreach, Lift Capacity, Estimated Cost
Electric, 36', 21', 500 lbs., "$24,000 - $43,000"
Electric, 40', 22', 500 lbs., "$18,000 - $47,000"
Electric, 51', 25', 500 lbs., "$55,000 - $90,000"
Diesel, 40', 22', 500 lbs., "$35,000 - $62,000"
Diesel, 66', 36', 500 lbs., "$91,000 - $110,000"
Diesel, 141', 70', 600 lbs., "$120,000 - $180,000"
[/table]
Common features and upgrades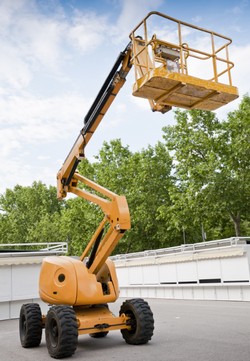 Also designed for heavy-duty applications, many articulating and telescopic booms are engineered with a rear axle hydraulic differential lock that protects the machine's stability on rough terrain, with 4-wheel drive capabilities available for added power and maneuverability.
Many boom lifts are also designed for narrow alleys and tight work areas. In fact, some models are only 4 feet wide, easily rolled through narrow aisles while taking up minimal space in storage.
Other common features include:
Gradeability of up to 30% (for 2-wheel drive) and 45% (for 4-wheel drive)
Drive speeds of about 3 mph
Outside turning radiuses ranging between 10 to 15 feet
Heavy-duty tires that provide high ground clearance
Self-leveling platforms that rotate up to 90° (usually just available with non-jib booms)
Zero emissions and quiet operation (with electric models)
In addition to standard features, optional enhancements include an on-board air compressor that powers pneumatic hand tools and a fall arrest platform that maintains fall protection while enabling the operator to exit the platform and move up to 270 degrees around it (within a radius of 6 feet).
Other upgrades include the addition of a jib – an extra 6 feet added to the height of the boom that allows the bucket to be moved up and down or side to side without altering the position of the main boom. The articulating jib often provides a 140-degree to 180-degree range of vertical movement, safely positioning the platform into hard-to-reach places. This is a popular feature for aircraft manufacturing and facilities maintenance.

Get Quotes
We contact sellers
They compete for your business