Genie Lifts Focus on Lightweight Maneuverability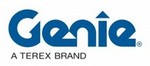 Genie has been producing a wide range of aerial lifts since 1966 for industries ranging from construction and facilities maintenance to airplane manufacturing. Their product line includes man-lifts, stick booms, articulated booms, light towers, scissor lifts, trailer-mounted Z booms, and telehandlers, all of which are separated into two main categories of focus: articulating boom lifts and aerial work platforms.
While each type has its own features and design, many models benefit from Genie's focus on exceptional stability and tight access maneuverability through narrow design. This extreme maneuverability is the result of a compact body that leverages a tight turning radius and zero tail swing – enhancements present on most models.
Combining safety with efficiency, a Genie man lift or Genie boom lift enables an operator to comfortably position the machine in close proximity to the work area (most notably walls) through a small outrigger footprint. They can also use the 'up and over' feature to access out of the way locations. Plus, Genie equipment offers the capability to maneuver just as easily and safely at height as it does at ground level.
Among the most popular Genie lifts, you'll find:
[table]
Model #, Working Height, Horizontal Reach, Weight Capacity, Estimated Cost (New and Used)
Articulating Boom Lifts, , , ,
Z-34/22 & Z-34/22 N, 40' 6", 22' 3", 500 lbs., "$18,000 - $47,000"
Z-40/23 N & Z-40/23 N RJ, 46' 5", 22' 8", 500 lbs., "$29,000 - $60,000"
Z-45/25 & Z-45/25J, 51' 6", 25', 500 lbs., "$55,000 - $90,000"
Z-45/25 RT, 51' 11", 25', 500 lbs., "$35,000 - $62,000"
Z-60/34, 66' 4", 36' 3", 500 lbs., "$91,000 - $100,000"
ZX-135/70, 141', 69' 9", 600 lbs., "$120,000 - $180,000"
Aerial Work Platforms, , , ,
AWP-20S, 26' 1", 20' 1", 350 lbs., "$3,000 - $6,000"
AWP-40S, 46' 4", 40' 4", 300 lbs., "$6,000 - $10,500"
DPL-25S, 31' 4", 25' 4", 750 lbs., "$13,500 - $15,750"
DPL-35S, 40' 10", 34' 10", 600 lbs., "$18,400 - $21,400"
IWP-20S, 26' 6", 20' 6", 350 lbs., "$3,500 - $10,700"
IWP-30S, 35' 6", 29' 6", 350 lbs., "$4,100 - $12,600"
[/table]
Learn more about Genie's product offering here.
Used Genie lifts
It's worth noting that the above costs take into account pricing on both new and used Genie scissor lifts. However, there's a lot more used pricing available online. Genie is one of the only aerial lift manufacturers that maintains a database of used aerial lifts for sale around the world. Remarkably inclusive, each listing contains year, make, model, serial number, hours, condition, and location – with prices that are 40% to 70% less than new models.
Notable features
Most Genie lift equipment is designed to allow the operator to easily maneuver through narrow aisles and standard doorways – an impressive and somewhat unique feature given the reach of some of their machines. But within their two categories of focus, you'll find a number of additional benefits that have been engineered for industry-specific tasks.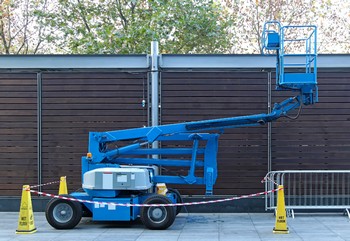 Articulating boom lifts – Available as diesel, electric, and bi-energy, Genie boom lifts offer the potential of emission-free operation, enabling them to be used in enclosed spaces such as sporting venues and warehouses. A few of the most impressive features include lifting versatility – providing a combination of up, out, and over positioning – high ground clearance, two- or four-wheel drive option, and rough terrain handling on some models.
Aerial work platforms – Offered in three different configurations, with two bases and four platform options, Genie scissor lifts and similar work platforms are reportedly a favorite among industry for the simplicity they provide. They also feature a lightweight maneuverability that makes Genie lift rentals a popular option for short- and long-term construction projects and special events as well as renovations and facilities maintenance. Their tilt-back frame allows them to be rolled through standard doorways and they are easily loaded in trucks or on flatbeds for transport from one location to another.
Get Quotes
We contact sellers
They compete for your business