Electric Scissor Lifts Provide Movable Work Platform for Almost Any Environment
Scissor lifts are a movable platform that offers heights between 19 feet and 50 feet (with the low end being more common) and lifting capacities from 500 to 2,500 lbs, though most range between 500 to 1,000 lbs. Unlike an articulating lift that offers a degree of horizontal outreach, electric scissor lifts are a flat platform that travels straight up and down, with lift and lower times in the neighborhood of 21 to 30 seconds for models with a 26-foot vertical capacity.
They have been designed to lift multiple people or large amounts of equipment to heights and offer far more weight capacity, not to mention a larger workspace, than bucket lifts. In fact, some scissor lifts can lift four to five times that of even the most heavy-duty articulating boom.
Designed for facilities maintenance, painting, window washing, and a variety of construction tasks, many scissor lifts come with a roll-out platform deck that provides a horizontal reach of 4 to 6 feet, enabling the operator to safely extend into a space when the lift itself is butted directly against a wall or other immovable object. To further service tight spots, some models also feature Chassis as narrow as 6 feet 9 inches.
Typically categorized into two different types, common specs for new and used scissor lifts include:
[table] Type, Work Height, Platform Height, Width, Weight Capacity, Gradeability, Estimated Cost Electric Scissor Lifts, 18' - 38', 12' - 32', 2.5' - 3.8', 500 - 900 lbs., 25% - 30%, "$7,000 - $22,500" Engine Powered Scissor Lifts, 26' - 56', 20' - 50', 5.6' - 7.6', "1,000 - 2,250 lbs.", 30% - 50%, "$17,000 - $32,500" [/table]
Features and power sources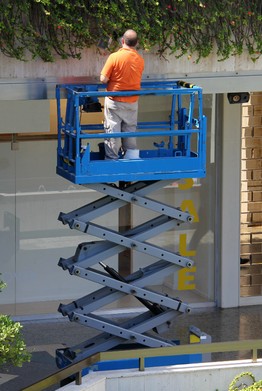 Commonly drivable at their fully-extended height, towable scissor lifts offer a unique set of features, often dictated by their power source. For example:
Electric scissor lifts – More compact and maneuverable than other models, electric lifts feature a design that takes advantage of a front wheel hydraulic drive and 90-degree steering. This is what gives them their enhanced maneuverability, allowing them to pivot around tight corners. Sometimes known as slab scissor lifts, this variety has been engineered for use on ramps and other uneven work surfaces, with some machines capable of up to 30% gradeability. Plus, in keeping with one of their primary strengths, they offer one of the most durable weight capacities for electric lifts, easily supporting up to 900 lbs in some cases.
Engine powered scissor lifts – Here's where you'll find the rough terrain models. Powered by an axle-based 4-wheel drive system with rear differential, diesel-fueled scissor lifts include rugged lug tread tires and are drivable at full height, even with the deck fully extended. Engine-powered models also typically include a 35% to 50% gradeability and often come standard with an extension deck of 4.5 to 5 feet. Plus, with basic ground control wiring and extensive diagnostics built into the machine, maintenance and service are simplified and downtime is minimized.
A popular upgrade is the inclusion of a one-touch leveling jack. This efficiency enhancement allows the scissor lift operator to get set up with the touch of a button. In fact, some models provide an average leveling time between 15 and 30 seconds, dramatically cutting down on set up.
But while productivity and efficiency are major concerns, so too are the demands of the work environment. Diesel or gas-powered scissor lifts are great for outdoor use, but can't be used indoors. Electric scissor lifts are quiet and emissions free, making them a better choice for use in warehouses or other indoor locations.
A quick word about finding the right dealer
Like any piece of industrial equipment, a scissor lift is going to require routine service. That's why it's crucial to consider machines offered through a qualified dealer. Offering comprehensive support and short turnaround times, a professional scissor lift dealer will provide a service level agreement (SLA) that maintains serviceable items such as:
Alarms and buzzers
Battery and charger (if applicable)
Brakes
Coolant condition and level
Engine oil condition and level (if applicable)
Gauges
Horn
Hydraulic oil condition and level
Lights
Steering
Tire pressure and condition
Get Quotes
We contact sellers
They compete for your business