Steel Building Accessories
Steel buildings are durable, energy efficient, cost-effective, and low maintenance. While choosing the most appropriate design for your building needs, you can either opt for a standard steel kit or customize your steel frame to suit your exact requirements. Before selecting a steel building design, it is important to understand what accessories are available for each design. Here is a list of accessories that can be used in the interior as well as exterior of your building.
(If you're looking for portable restrooms for your job site or business click here to lean more)
Interior
The following are some of the common products used in the interior design of a steel building.
Insulation
Steel buildings are energy efficient. With proper insulation, you can augment this feature. Insulation reduces condensation and cuts down on heat transfer. Moreover, outside noise levels are reduced. By controlling the flow of heat, insulation lowers your electricity bills. The strength of insulation is measured in R value. There are different options when it comes to insulating your steel buildings.
Loose-fill insulation: This is an inexpensive option wherein special equipment is used to blow fiber pellets or loose fiber into building cavities.
Batt & Blanket Insulation: This is the most inexpensive insulation method. Batt insulation involves pre-cut panels of fiber glass or mineral fiber of 4 to 8 feet in size. Blanket insulation uses fiber glass in the form of rolls cut to specification.
Spray Foam Insulation: A liquid containing polymer when sprayed on walls, ceiling and floors turns into solid plastic to provide airtight insulation. This option is best suited to fill gaps in shaped structures.
Right Board Insulation: Polystyrene, fiberglass or Polyurethane is used in this method which best suits flat roofs.
Insulation expenses vary with the type of insulation, the building structure, and the R-value of the insulation. For instance, closed-cell spray Polyurethane foam insulation costs around $3 to $5 per square foot.
Wall Lights:
Sun light provides free light to the entire building, decreasing your electricity bills and reducing heating bills. Wall lights are an excellent way to take advantage of free and abundant sunlight. In a steel building, you can use a translucent panel that comes in the same profile as the wall panel. These wall lights are acrylic panels and effectively transmit sunlight into the room.
A 3' x 10' roof wall light would cost around $75.
Walk Doors:
Walk doors are an option for any building. For a steel building, walk doors are available in different configurations. You can choose from a standard size of 3' x 7' door, 4' x 7' or a double leaf 6' x 7' door. There are different types of walk doors including: a half-glass door, a solid door, or a narrow lite glass panel. Half-glass doors allow more light into the building. While choosing a double leaf door, check if both leaves are active or if only one leaf is active. Walk doors are self-framing and are not blocked by columns. You can install them anywhere in the building.
A standard 3' x 7' walk-door costs around $425 each. If you choose a 4' x 7' walk-door, it would cost around $465.
Window Options:
To provide air, ventilation, and heat to any building, you need windows. Similar to walk doors, windows can be installed anywhere in the building. They are not constrained by columns or bracing. Windows are available as insulated (thermal) and un-insulated versions. By choosing an insulated window, you can save money on electricity bills in the long run.
A 3' x 3' standard horizontal slide window and hardware costs around $165.
Insulated Panels:
Be it roof panels or wall panels, insulated panels add life to steel buildings. Insulated panels come with a factory injected polyurethane coating on the outer and inner metal skins. These panels effectively control heat transmission and offer more value to your money. Concealed fasteners are applied on the outer skin of the metal to give it a smooth and rich appearance. An interlocking groove system on the side panels conceals fasteners. In addition, insulated panels add more security to the structure. Pre-engineered insulated panels are easy to assemble and install.
Prices of insulated panels vary with R-value and the type of insulation selected.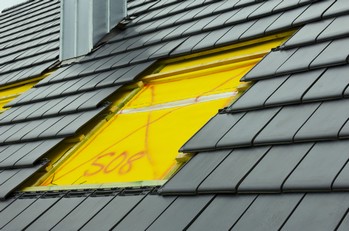 Skylights:
Similar to wall lights, skylights, or roof lights offer natural light to your steel building. They increase the energy efficiency of the building as well. Translucent polycarbonate or fiber glass panels replace certain steel roof panel sheets to provide sunlight to the building. These light-transmitting panels come as insulated or un-insulated panels.
Normally, skylights come in pairs as they are placed on either side of the peak of the roof. The number of roof lights required for a building is based on the number of bays available on the roof. It is recommended not to install two skylight panels side by side.
Standard 10' x 8' skylights and the necessary hardware cost $65 each.
Bi-fold Doors:
Bi-fold doors fold vertically upward and outward when retracted. They provide a clear opening while minimizing headroom inside the building. For automated systems, you can open and close the door with the click of a button. Bi-fold doors are made with a corrosion-resistant structural steel tube frame. Rust-resistant red oxide paint is used as the primer. To match the ambiance of your building, you can augment the door with a wide variety of surfaces. Glass can be used as well. Normally, bi-fold doors come in minimal dimensions of 8' x 8' and maximum dimensions of 24' x 20'. Glazing options are endless.
Liner Panel
The interior walls of steel panels are called liner panels. They give an aesthetic finesse to your steel building while protecting insulation and walls. Normally, liner panels come in three-foot widths and are screwed to the framing. Liner panels cover sharp and exposed edges. Top trim, framed opening trim, and column trim are generally included with these panels. There are two types of liner panel: full liner panels and partial liner panels. Full panels are attached from floor to roof and are fixed to the eave struts on side walls. Partial liner panels are extended to the girth with an approximate height of 7.4'. Before choosing the design of a building, check if the base options include a connection point to fix liner panels.
The price of liner panels starts at $2 per square meter.
Exterior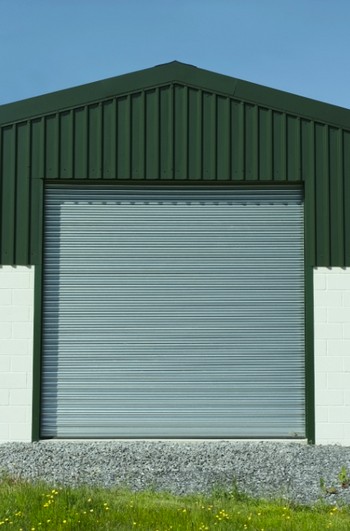 Roll-up Doors:
As the name suggests, roll-up doors open vertically upward and are gathered into a roll. They are typically used for commercial purposes. Small retail shops, garages, workshops and industrial entities mostly use roll-up doors. However, they can be used for any type of steel building application.
These doors are pre-assembled and come with locks and bottom bar. You can choose from a wide range of colors and sizes from 4' x 7' to 16' x 16'. If you need a bigger roll-up door, you can order a one customized. These doors are easy to install. However, care must be taken when installing the mounting bracket. If you live in areas prone to high winds, choose wind-certified roll-up doors that can withstand winds of 120 mph or more.
Prices vary with different factors. For instance: a roll-up door of 8' x 8' with 16 gauge insulation costs around $478. A non-insulated roll-up door is $386. A 12' x 12' doors costs you around $637 non-insulated or $818 for an insulated door.
Sectional Overhead Doors:
Sectional overhead doors are constructed in horizontally hinged sections. The metal door rolls into an overhead section under the roof to provide clear opening space. These doors come with springs, counter balancers, tracks, and other hardware to roll into the overhead. You can choose either an insulated or an un-insulated overhead door. In addition, sectional overhead doors come as full panel or full glaze. Fully glazed doors offer complete transparency to the user. They are suitable for industrial building applications.
8' x 8' sectional overhead doors without windows cost around $479. When square windows are added, the cost increases to $575. With sunset windows and other designer windows, to the cost is $635.
Gutters / Downspouts:
Gutters and downspouts are an important part of steel buildings. Rainwater comes down quickly on metal roofs when compared with other material. Rainwater flowing down the building can result in flooding or erosion. Gutters redirect rainwater to prevent water pooling and keep your roof clean and tidy. Moreover, gutters contribute to the beauty and elegance of a building. Gutters used for a steel building must be wider, deeper, and have an extended outside edge. You can choose gutters the same color as the building and downspout or go with contrasting colors. Quonset or arch type buildings would not have this option, though.
Gutters along with necessary downspouts would cost around $6 per linear foot.
Insulation:
For steel buildings, insulation augments the strength, durability, energy-efficiency and elegance. Fiberglass is commonly used as blanket insulation material for exterior walls and the roofing of a metal building. For metal re-roof applications, it is also used as an additional layer. Insulation material is laminated with an appropriate vapor retarder facing. Metalized polyester is also used as the backing material. In metalized polyester, water vapor transfer rate is 50 times more when compared with plain vinyl insulation. The strength of insulation is measured in R value. Insulation for steel buildings can go up to R-40 value.
Insulation charges depend on R-value and other factors. For example: a steel building size of 30' x 30' x 14' with reflective R-value 16 costs around $1,136. For a building 50' x 100' x 16', insulation cost would be around $4135.
Cupolas:
A cupola is a dome-like structure that crowns the roof of a building. Cupolas are used to provide a lookout and circulation for light and air. Especially in barn structure, cupolas provide venting options to the building. Moreover, they provide a vintage appearance to the building. You can use cupolas on riding arenas and other agricultural buildings. They come in a wide variety of colors with window sides or louvered sides. The footprint ranges from 24' to 48'. Cupolas are often coupled with weathervanes to provide an additional beauty and interest to the structure.
24" x 24" cupolas with louvered sides cost around $261. When a weather-vane is included, the cost would rise to $310.
Walk Doors:
As walk doors come as self-framing material, they can installed anywhere in the building. They are not blocked by column placement. They come in different sizes such as: 3' x 7', 4' x 7', 6' x 7'. Exterior walk doors come in different gauges like heavy duty or medium duty steel gauge. For a heavy duty walk door, the interior comes with 27-gauge and the exterior surface comes with 29-guage, typically. You can opt for an insulated one or an un-insulated walk door. Walk doors are not included in the building design. You can add them separately. They come in a wide array of designs and colors.
Mezzanines:
A mezzanine is an intermediate floor between the main or the lowest floor in the balcony. They are mostly used in commercial or industrial structures. Mezzanines provide a perfect platform to supervise procedures performed in the plant work area. Moreover, you can fully utilize the vertical work space. Mezzanines suit building metal range towers, in-plant offices, and vision towers. You can customize the size, height, deck, span, landing and stair system of the mezzanine. Mezzanines come in a variety of decking materials. Heavy duty columns and base plates are used in this structure to provide greater strength to the mezzanine platform.
A mezzanine deck with dimensions 8'W x 12'L x 9'H and plywood deck floor costs around $3135. When the deck floor is constructed of steel bar grating, the cost increases to $3355. Typically, mezzanines cost $30-$50 per sq. ft.
Rooftop Unit:
A rooftop unit or an air handler is an important unit that regulates the air flow into the building. Rooftop units are generally part of an HVAC system and are connected to a ductwork ventilation system. The conditioned air is distributed throughout the building and is returned to the air handler. Smaller units are called terminal units; larger units are called Make up Air Units (MAU). Air handlers that are designed for exterior purposes and installed on the roof of the building are called Rooftop Units (RTU). Rooftop units typically contain filters, heating/cooling elements, a mixing chamber, a humidifier, a blower, a heat recovery device and controls.
Customized Exterior:
Steel is durable but also elegant. Typically, standard steel frame kits come in a wide array of designs. However, you can choose a custom finish for your building. You can customize the end walls using aluminum or vinyl siding. You can choose skylights, shutters, custom door frames, and other exterior features. By constructing a covered area in the backyard, you can relax during hot summer. A roof extension can be a good focal feature as well. When it comes to customizing your exterior, options are endless.
Door Canopy:
A canopy is a protective structure that keeps rain and snow away from your doors and windows. Standard door canopy kits come in 4' extensions with widths of 6'or 7'. Door canopies protect your building from sunlight and keep the building cooler. A door canopy extends 4' from the edge of the wall and has diagonal supports at the edge of the canopy. Canopies come in different colors. Coated with Galvalume, door canopies are corrosion resistant. You can customize door canopies to a specific size and height to suit your building requirement.
A standard door canopy starts at $200.
Get Quotes
We contact sellers
They compete for your business