Olympia Steel Buildings
As a leading provider of pre-fabricated and pre-engineered metal buildings, Olympia Steel Buildings takes pride in delivering high quality steel buildings across North America. Olympia steel buildings are supplied by Universal Steel Buildings Corporation, a company which has been providing high quality steel buildings for the past forty years. The company provides steel buildings to residential, commercial, agricultural, government, and military agencies.
Olympia Products
Olympia steel buildings come with AZ55 Glavalume roof panels that offer a thirty-five-year rust through perforation warranty. The truss-less design used in the pre-fabrication enables you to optimize the work space fully. Steel buildings from Olympia are easy to assemble, thanks to the bolt-up rigid frame I-beam construction. They are maintenance-free and save time and money in construction.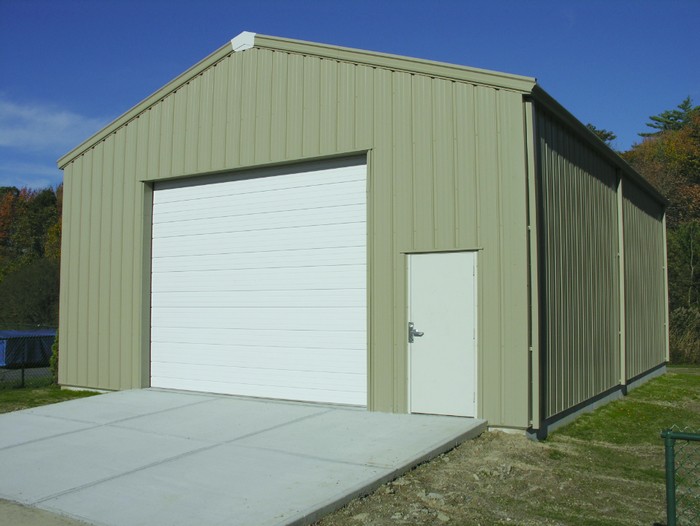 For roofing, you can choose the patented Zeus-Shield standing seam metal roof or the weather-resistant PBF roofing. Owing to the perfect pre-engineering work, Olympia steel buildings reduce air infiltration, saving on HVAC costs and improving energy efficiency. The striking feature of the Olympia steel buildings is the forty-year warranty against peeling, blistering, cracking or chipping of metal buildings.
Building Types
Olympia Steel Buildings offers a wide range of building types, including: garages, workshops, commercial buildings or residential units. Whatever the structure, the company provides high quality designs at cost-effective prices.
Here are some of the types of buildings offered by Olympia Steel Buildings:
Garage Kits and Storage Sheds
To store your valuable investments or safeguard your vehicles, you need a high quality steel building kit. Olympia Steel Buildings offers garage kits and storage sheds that keep your vehicles and valuable property safe and secure.
The buildings come with thirty-five-year rust through perforation warranty and a forty-year warranty on paint. You can choose from twelve elegant colors and erect the construction quickly. These kits are good for car storage, lawn care equipment storage, boat storage, RV storage, or backyard workshop tool sheds. For truck repair facility or truck storage, Olympia offers truck garage kits.
Workshops
Olympia workshops can be used as workshops, auto repair shops, manufacturing shops, or storerooms. Size options are endless. The workshops come in twelve different colors. Standard, long-life fasteners are available. All Olympia Steel Buildings come with thirty-five-year rust-through perforation warranty and a forty-year paint warranty.
Agriculture
Olympia Steel Buildings provides durable and cost-effective storage solutions for agricultural needs. Farm storage buildings from Olympia are tailor-made to house grain, agricultural machinery, or livestock. You can easily customize these buildings for dairy farming or commodity storage. You can build pole barn kits, metal pole barns, livestock shelter and various other buildings for your agricultural needs.
Government / Public Facilities
Olympia Steel Buildings offers the right building structure for government facilities like police, ambulance or fire stations. Storage requirements are met as well. You can quickly assemble and erect these kits. While being durable, these building kits are energy efficient, secure, and cost-effective.
Commercial Buildings
Be it for retail stores, office buildings or manufacturer's outlets, Olympia storage buildings and warehouse kits provide the right space for your business needs. Olympia Steel Buildings offers various buildings sizes to suit Fortune 500 companies as well as small and medium businesses.
For small businesses, the company offers mini-warehouse self-storage kits. Olympia Steel Buildings provides the required quality, accessibility, convenience and reliability to store goods using maximum space. While these buildings are attractive and elegant, they are cost-effective as well.
Recreational Buildings
Olympia recreational buildings offer optimum space in the form of clear span constructions. You can construct a recreational center of 200' width without any beams or posts. This is especially useful when you build riding arenas and horse barns. You can construct 200' wide structures with unlimited lengths. They can be easily erected. Maintenance is easy too.
Church Buildings
Church buildings and premises have an aura of peace and serenity. Olympia church buildings offer the right elegance that carries a serene ambiance. These buildings suit youth rooms, worship centers, fellowship halls, choir rooms or welcome centers. You can customize these structures to suit your requirements.
Industrial Buildings
Olympia Steel Buildings uses strongest steel material to provide durable and strong buildings. For any industry, a strong structure is very important. Olympia provides the right structure to house heavy equipment. Moreover, clear span designs provide the extra space to economically operate your procedures. If you want to house a helicopter, aircraft or a glider, an airspace hangar from Olympia Steel Buildings have an industrial building that will meet your business requirements.
Whether your building needs are industrial, agricultural or domestic, Olympia Steel Buildings has a structure that is ideal for your business or residential requirements. Olympia steel buildings provide durability, versatility and flexibility of size and shape at affordable prices. Olympia takes pride in offering its North American clients the highest quality pre-fabricated and pre-engineered metal buildings to satisfy a wide range of building needs. Contact us to discuss your unique building requirements.
Get Quotes
We contact sellers
They compete for your business