Quonset Huts and Arch Type Steel Buildings
Among various types of steel buildings, the Quonset hut (also known as an arch style building) is a popular model. This style is the most economical design in the steel construction segment. An arch style building can effectively withstand hurricanes, winds, and storms. Moreover, it can easily be constructed and maintained.
The Quonset hut is a self-supporting steel building design. Constructed of corrugated galvanized steel, the Quonset hut has a semi-circular cross section. There are no supporting beams or poles. The name was derived from Quonset Point where this style originated. In 1941, the US military needed a simple and self-supporting building that could be erected quickly, without much labor, and moved easily. This assignment was given to The George A. Fuller Construction Company. The first design with dimensions of 16 ft. x 36 ft. was created in sixty days. The flexibility offered by Quonset huts makes it a popular choice today.
Benefits of the Quonset Hut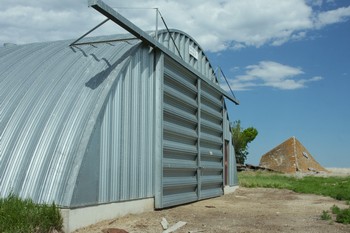 Durable
Economical
Energy-efficient
Eco-friendly
Quick to assemble
Easy to maintain
Customizable
Easily expandable
Multipurpose applications
Design
Quonset steel buildings are available in two different models. The first one is the traditional full arch model. The second one is the modern design wherein straight walls are attached to a curved roof.
Straight wall models are becoming increasingly popular when compared with traditional full arch designs because they enable you to utilize the inside space completely. There is no wasted space on the sidewalls since the walls are completely straight, allowing you more space with the straight wall design than full arch.
Quonset buildings differ in the type of roofing used:
Q model: Least expensive, durable and provides superior strength. The width ranges from 20' to 100'.
S model: This model has straight walls. The width ranges from 16' to 60' and the space is optimally utilized. It is perfect for warehouse and equipment storage units.
P model: It has straight walls and the roof comes in a gable structure. This is perfect for backyard applications like workshops or garages.
Construction
Quonset models are easy and quick to assemble and erect. All the arch pieces are first laid out on the ground. Each piece is 8 to 12 feet. When you bolt all sections together, you get a full arch. This arch is then attached to the foundation.
Next, the arch is assembled in the similar fashion and attached to the first arch. Each arch is 2 feet. By adding more arches, you can make the Quonset hut longer. You can either add front walls or keep them open on one side or both sides. Attaching the arch to the foundation is easy. First, you create a concrete pad and then bolt a baseplate to it. The arch is then bolted to this baseplate connector. Alternately, you can use the traditional trough method. In this method, arches are inserted into the foundation trough. The trough is then filled inside and outside.
Steel panels 2ft. x 10 ft. weigh only forty pounds. One size of bolts is used for all connections, making it is easy to assemble them. In fact, 75% of Quonset owners erect the building on their own. You don't need any heavy machinery or tools.
Sizing & Pricing
With Quonset designs, sizing options are endless. The width of this design can go up to 100 ft. When it comes to length, there is no limit as you can just add more arches. It is endlessly expandable. Without interior poles, beams and columns, you get a large inner space.
Popular structures and prices:
Single car garage kit (12 ft. x 12 ft.): $5,000
Double car garage kit (24 ft. x 24 ft.): $8,000
RV Garage kit (40 ft. x 20 ft.): $12,000
Storage kit (40 ft. x 80 ft.): $25,000
Steel Barn (60 ft. x 100 ft.): $42,000
Uses
When it comes to Quonset designs, the applications are endless. You can use your Quonset hut to store anything from machinery, or tools, to garbage. In the agricultural segment, barns and lofts can be easily built using this model. Quonset huts are an ideal choice to house every type of vehicle.
For warehouses purposes, Quonset is a good choice. Aircraft hangars get more inner space. Gymnasiums or sports arenas can make the most out of this design. You can customize the design to suit your exact requirements. Quonset designs are strong, sturdy, and built to withstand hurricanes, winds, and other natural calamities.
Get Quotes
We contact sellers
They compete for your business