Steel Barn Sizes, Pricing, and Accessories
Whether you are building commercial offices, residential buildings, or public facilities, steel provides durability at cost-effective prices. Steel is an especially good choice for barns. By constructing steel barns or steel pole barns, you can house livestock, crops, or agricultural machinery economically.
Today, steel barns are multi-purpose units. The advancement in technology has brought revolutionary changes to the steel construction industry. A typical steel barn not only houses livestock. It can also serve as a workshop, living room, extra room, or a garage for protecting vintage vehicles.
The popularity of steel barns can be attributed to four aspects:
Versatility
Durability
Cost-effectiveness
Fire and termite resistance
Popularity and Durability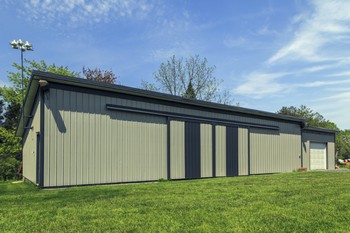 Steel barns offer versatile design options. Not only can you house livestock, you can use your steel barn as a workshop, vehicle storage, an automotive maintenance shop, or as an extra room. With a trussed roof, you can enjoy ample space inside. Steel barns can be quickly erected within days using limited manpower and basic tools.
Secondly, steel barns are durable. The metal from which they are built has a high weight-to-strength ratio. Steel barns can effectively withstand thunderstorms, hail, winds, and hurricanes providing your livestock with safe shelter. Steel barns are kick-proof. This means that your building will not be damaged by animal kicks to the wall which might compromise the durability of the building.
Steel barns also resist fire and termite damage. Being a non-combustible material, steel provides highest security for your livestock from fire and termite damage.
Size
The primary purpose of a steel barn is to safeguard your livestock, machinery, crops, or other assets. When purchasing a steel barn kit, the first thing to look at is steel barn sizes. The size of the barn depends on what you plan to house.
Here is a small table comparing sizes of various livestock:
Large horse: 12 ft. x 12 ft.
Stallion: 14 ft. x 14 ft.
Pony: 9 ft. x 9 ft.
Pigs: 3 sq. ft. each / 6 sq. ft. / 9 sq. ft.
Sheep: 12-16 sq. ft.
Cattle with feedlot: 20 sq. ft. per head
Cattle without feedlot: 30 sq. ft. per head
Calves: 15 sq. ft. per head
Based on the above guideline, calculate the total space required to house your livestock and purchase barn kits accordingly.
In addition to livestock barns and drive-in sheds, steel barns serve as multi-purpose structures. You can use them as farm storage sheds, farm buildings, feed storage buildings, equipment storage structures, hay storage sheds, garden fertilizer storage sheds, or for any general storage needs.
Steel Barn Prices
Steel barns are cost-effective. Erection and labor costs are significantly reduced. When compared with lumber, steel barns' material and erection costs are 30-40% less. Steel is environmentally friendly. The steel used in the building kit is recyclable. This translates to a saving of your valuable resources and landfill space.
Steel barn prices depend on the size of the building, accessories, and material delivery charges. Accessories can add as much as 20% to the material cost. When it comes to accessories, make sure that the steel barn has proper ventilation. Livestock require fresh air and sunlight. Improper ventilation can result in the development of pathogens, dust, and mold. Ensure that windows are installed in appropriate locations.
A typical 30' x 20' x 8' barn needs to change 320 cubic feet of air every minute. In hot weather, it should change 3200 cubic feet of air per minute. In addition, insulating your building improves energy efficiency and lowers your heating and cooling bills.
A typical 30' x 30' steel barn (900 sq. ft.) would cost you around $11,000. The breakdown for this is as follows:
Basic building: $9,000
Basic accessories: $1500
Delivery charges: $500
For a large steel barn of 300 ft. x 300 ft. (90,000 sq. ft.):
Basic building: $500,000
Basic accessories: $1,00,000
Delivery charges: $50,000
Total cost: $650,000
The price of steel pole barns depends on the type of barn chosen as well. While a stud/post frame barn 30' x 40' costs around $35,000, a straight wall steel barn costs around $25,000 and a Quonset hut steel barn costs around $21,000
As the width and the length increases, so does the price of the basic building, accessories, and delivery charges.
Steel Barn Accessories
When purchasing steel barn kits, the available accessories are worth considering. In addition to doors and windows, you would need roof gutters or rain gutters to redirect rain water. Venting options must also be considered. You can choose a ridge vent or a gable vent. A ridge vent is installed on the peak of a sloped roof for ventilation purposes. Ridge vents are mostly used on shingled buildings. A gable vent is installed on the gable end of the building. Air enters the building through a soffit vent and exits through a gable vent or a ridge vent.
Other accessories include sliding doors and other hardware like door frames. Sliding doors are also known as bottom rolling doors. They have wheels that rotate on rails embedded in the floor. These doors slide horizontally and provide more clear space for livestock or heavy machinery to move in and out. They can effectively operate and accommodate large aircraft as well. Installing the right door frame provides more life for doors and the building.
If you have a horse barn, you will need hay feeders and horse watering systems. The best option is to use an automated watering system. Installing an automated pesticide system is recommended as well. It would automatically and evenly spray pesticides inside the barn. In addition, your barn needs proper lighting and heating systems. Hand wash tools and magnets are also required.
Get Quotes
We contact sellers
They compete for your business