Mueller Steel Buildings
Mueller Steel Buildings is a leading manufacturer of pre-engineered metal buildings and roofing products. This steel building construction company, started by Robert Mueller 80 years ago, was acquired by the Burly Corporation in 1984. Initially, Mueller manufactured high quality water cisterns. Today, Mueller Steel Buildings provides high quality sheet metals required for every type of construction.
Headquartered in Ballinger, Texas Mueller Steel Buildings has thirty branches in Oklahoma, New Mexico, Louisiana and Texas. Mueller Steel Buildings serves customers across South, West, and Central USA. The company owns and operates three manufacturing units in Texas where its six hundred employees produce high quality metal construction products.
Mueller Steel is known for superior quality products. Whether it is steel building products or metal roofs, every product is manufactured at the company's own engineering unit. Here are some of the reasons why Mueller Steel stands out from the rest:
Durability
Mueller uses 26 gauge steel to produce high quality steel buildings and metal roofs. The quality of steel used by the company is 33% thicker than the industry standard. With such strong metal, your building gets greater durability.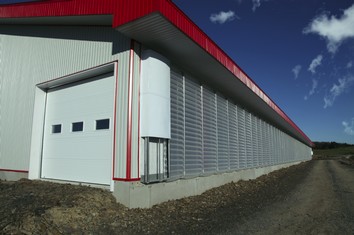 Underwriters Laboratory has developed a test, UL 2218, to evaluate the impact resistance of roofing material. This test evaluates materials by dropping a steel ball onto the roofing panel twice at the same location. The material must show no evidence of fracture, cracking, splitting or any other failure, which would result in an opening of the roofing material. The sizes of the steel balls are from 1.25 inches to 2.00 inches. Four impact levels are defined with Class 4 being the most impact resistant and Class 1 being the least impact resistant.
The Institute for Business & Home Safety (IBHS) has recommended UL2218 Class 3 or 4 products in hail-prone regions. Panels used by Mueller Steel Buildings are graded as Class 4 according to the guidelines of Underwriter Laboratory. Class 4 panels most effectively resist hail damage.
While you enjoy high quality products, you get more value for your money. In fact, Texas Homeowners' Insurance offers a 35% discount on insurance policies for homes built by Mueller grade panels because of the quality.
In addition, Mueller Steel Buildings Construction Company uses high quality steel that is engineered using advanced technology to produce strong and durable metal kits. They are less susceptible to oil canning, deformation, or buckling normally seen with flat metal sheets.
Muller products offer good resistance from weather elements including: hail, fire, and wind. Mueller products are not only strong but elegant. They come in appealing colors and designs. The company uses top-of-the-line paint systems that offer greater attractiveness to a building. Moreover, you can get warranty of up to thirty years.
Energy Efficiency
Products manufactured by Mueller Steel are energy-efficient and eco-friendly. The top quality painting provides greater durability to roofing and buildings. In addition, steel buildings lower your air conditioning and heating bills as 95-97% of the radiant heat that strikes the surface of a steel roof is reflected; only 3% to 5% of the heat is emitted through the insulation.
Metal roofs reflect the sun's heat away from a building, leading to energy savings of about 50%. Metal roofs can be about 100 degrees cooler on the surface than traditional asphalt roofs. Maintenance of these buildings is easy and cost-effective as well. Stringent quality checks are implemented at every step of manufacturing of these high quality products.
Mueller Products
Mueller Steel offers a wide variety of products for your building construction requirements. Steel buildings come in different types. Here are different building types offered by Mueller Steel:
Mueller Standard Buildings and DIY options
If you want a standard type of building, Mueller offers a wide variety of sizes and designs to choose from. These buildings are pre-designed with finest and heavy structural steel. They are flexible and easy to assemble with bolts and screws. Welding is not required. Standard buildings are suitable for garages, workshops, barns and large storage spaces.
Do-it-yourself structures are a good choice when you want to construct backyard storage. They come in six sizes ranging from 6'x9'x7' to 24'x24'x8'. DIY structure are available in a wide variety of colors. They are easy to assemble with bolts and screws. Welding is not needed too. The flooring kit comes as an optional choice.
[table]
Application, Dimensions, Models, Price
Workshops, "24' x 24' x 10'", Utility, "$3,695"
, , Basic, "$3,795"
, , Snow, "$4,095"
, , Premium, "$4,095"
, , Texas Windstorm, "$4,295"
Garage, "24' x 30' x 11'", Utility, "$5,395"
, , Basic, "$5,495"
, , Snow, "$5,595"
, , Premium, "$5,495"
, , Texas Windstorm, "$5,595"
Big Workshop, 30' x 40' x 12', Utility, "$6,595"
, , Basic, "$6,995"
, , Snow, "$7,395"
, , Premium, "$7,295"
, , Texas Windstorm, "$8,395"
Small Barn, 30' x 50' x 12', Utility, "$7,395"
, , Basic, "$8,295"
, , Snow, "$8,595"
, , Premium, "$9,095"
, , Texas Windstorm, "$9,695"
Big Barn, 40' x 50' x 14', Utility, "$10,395"
, , Basic, "$11,495"
, , Snow, "$12,695"
, , Premium, "$11,695"
, , Texas Windstorm, "$13,795"
Big Barn XL, 40' x 60' x 16', Utility, "$12,895"
, , Basic, "$14,295"
, , Snow, "$15,195"
, , Premium, "$14,695"
, , Texas Windstorm, "$17,795"
[/table]
Mueller Choice Series
The choice series allows you to customize your building to suit your requirements. Expert engineers at Mueller Steel can help you customize the roof type, building size, color components, and other accessories. These pre-engineered buildings not only answer your spacing requirements but also provide greater value for your money.
The price depends on the building size, building type, roof type, color and accessories.
Green Houses and carports
Green Houses from Mueller cater to the spacing needs of nature lovers. These kits come with a sturdy metal frame that is augmented with high performance polycarbonate panels. They are durable easy to assemble.
DIY Carports offer the perfect housing for your cars and other vehicles. They come with purlins steel frame and square tubing. They offer greater protection to your cars. You can choose one-car size or two-car size. You can customize the type and style of these car ports.
In addition, Mueller Steel offers high quality steel building components like: purlins, tubing and beams.
[table]
Dimensions, Price
6' x 9', "$1,495"
9' x 12', "$2,095"
12' x 15', "$2,895"
12' x 18', "$3,395"
[/table]
Not only does Mueller Steel Buildings produce high quality products but it also provides excellent customer service. If you wish to discuss a project, resolve an issue or get more information, Mueller sales representatives are always there to help you.
Get Quotes
We contact sellers
They compete for your business